History of Snowmobiling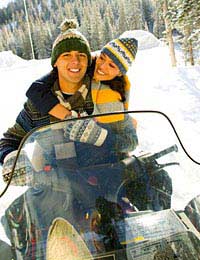 Unlike most winter sports snowmobiling's history began only recently; in fact, airplanes flew before snowmobiles moved over snow!
Inventive Tinkering
Snowmobile history reportedly began in the early 1900's, in Waterville, Maine, with the construction of Alvin Lombard's motorized sled, the Lombard Log Hauler. Run by a steam engine, the original weighed 20 tons. Wide spread invention began in the mid 1920's, although compared to today's models the prototypes were prehistoric. Carl Eliason of Sayner, Wisconsin began building his snowmobile in 1924 from bicycle parts, skis and a front mounted, liquid cooled, 2.5 HP outboard motor. Much like a dog sled, the machine slid over snow on slide rail track guides and wooden cleats while riders steered with a rope. Eliason received the first snow machine patent three years later.
Over the next thirty-five years, the patent office granted thirteen more patents to inventors of snow vehicles. Inventors worked with designs for automobile conversion motorized sleds to snow planes. Snow machines makers tested numerous ideas and took parts from uncountable sources including chassis from Ford Model Ts and Model As, Chrysler V-belt drive engines, and airplane propellers and engines. Karl Lorch of Spy Hills, Saskatchewan produced a four-ski snowplane with a hydraulically operated wheel conversion for riding on dry ground.
The snowplane captured many inventors' imaginations, and were the vehicles of choice in the first snow machine races. Among the snowmobile line of designs was a 1935 snowmobile built with front skis and a tracked system run by a sprocket wheel in the back. Able to carry up to twelve people, the sled became popular among doctors, veterinarians, ambulance and taxi drivers and loggers. American and Canadian inventors tinkered with two-track machines, eventually preferring single-track designs.
In 1931, Emmit M. Tucker began tinkering with auger-type propulsion systems, pioneering pontoon-style tracks. His sno-cat became the leader of snow grooming.
Traveling Sleds
The 1923 White Snowmobile, developed in West Ossipee, New Hampshire by Vero White featured three tread widths and was sold around the world, including Egypt where it was used for sand travel. Admiral Byrd traveled to the South Pole on an automobile conversion sled in 1931, and Fudge's snowplanes sold as far as Australia.
Modern Snowmobiles
In 1954, brothers Alan and Edgar Heteen and partner David Johnson changed the name of Heteen Hoist and Derrick Company to Polaris Industries Inc, marking the beginning of major single-track snowmobile development, though it was not until the winter of 1955-56 that Polaris Industries manufactured the first machine of their own design.
Joseph-Armand Bombardier's well-marketed Ski-Doo further propelled the modern snowmobile boom in 1958. Originally called the "ski-dog," an ad agency lost the tail of the "g" on the artwork, however Bombardier discovered the mistake too late to fix it. In 1960 Canada granted patents for Bombardier's endless track design followed by America in 1962. Bombardier Recreational Products (BRP) gained another market advantage when Polaris neared bankruptcy following the failed design of the Comet in 1963.
Top small motor manufacturer, Mercury, joined the snowmobile industry in the mid 1960's. By 1969, the company built a smart sleek sled with a design from their early "dock banger" outboard engine, CDI Thunderbolt Ignition, twin cylinders, electric start, hi-lo beam lights, and an enclosed dashboard. In 1972, the Hurricane was unveiled powered by the first snowmobile specific engine made by Mercury. By the mid 1970's, Mercury snowmobiles dominated the industry, though their tenure at the top was short lived. Majority stockholder, Brunswick, leveraged a buy out of Mercury changing the name to Mercury Marine. Mercury snowmobiles were discontinued a few years later.
In 1961, Edgar Heteen separated from Polaris and stared Arctic Enterprises. Seven years later, a motorcycle company called Yamaha built its first Snowmobile, the SL350 a 2-stroke, twin cylinder machine with slide valve carburetors. Hundreds of smaller manufacturers existed, but by the late 1970s Polaris, BRP, Yamaha and Artic Cat conquered the market.
Competition
Snowmobile racing started in 1969 with volunteers rewriting the Indianapolis 500 racing rules to fit snow machines for the International 500 Snowmobile Race. As the ski world went extreme in the late 1990s, so did snowmobilers. Jim Rippey performed the first backflip in the Utah backcountry in the spring of 2001 on his 500-pound Ski-Doo. BJ Murray repeated the stunt in May of 2004 to become the first Canadian to join the exclusive back flip crowd.
Today, manufacturers sell over 200,000 snowmobiles annually in the United States, Canada and Europe. While North America claims the most snowmobile riders with numbers over four million, Finland, Sweden, Norway and Russia rely on snowmobiling for much of their winter economy and thousands of full time jobs. Snowmobile culture and history continues to grow and as self-awareness develops, fans and historians will record more details of motorized snow travel.
You might also like...