A Beginners Experience of a Ski Break: A Case Study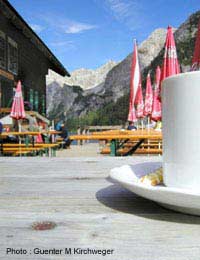 For many, skiing is a lifelong passion and a sure choice when it comes to making holiday plans. What about those who find themselves on the slopes for the first time? We caught up with Hilary Snaith to hear about her experience as a first time skier.
Q. Where were you skiing and who with?
A. My family and I went to Italy to a small skiing resort in The Alps. My husband and son had been skiing before but it was a first for my daughter and I. We stayed in a half-board hotel a short bus ride from the slopes.
Q. Tell us about your first skiing lesson.
A. My instructor was very thorough and talked through our equipment and clothing in detail. He also explained the skiing 'Highway Code' to us. On our first morning, he took us on a test run. To be honest, I found this terrifying. My perceived speed and the alien sensation of controlling my movements in an unfamiliar way were unsettling. I felt as though I had let myself down slightly, as I know that instructors can help ski students with their technique but can do little to boost their bravery. Perhaps, for me, this initial test run wasn't the best option. I felt that it put me off somewhat. I did enjoy some of the drills though.
Q. How did you feel at the end of your first day?
A. Very tired! If I was to go skiing again, I would try to work on my stamina before the trip. My leg muscles were painful and I felt a general sense of fatigue. It felt exhilarating to have got so much fresh air, though. I slept soundly that night.
Q. What were your experiences of skiing for the rest of the week?
A. I loved meeting and getting to know the other students in my group and was sorry to say goodbye to a few of them when they were moved up to the intermediate class. It was rewarding to feel my muscles strengthen as the days went on. I have to admit, though, that I gave skiing a miss on the last two days of the trip. I enjoyed giving it a go but was keen not to overload my body and to enjoy a period of relaxation before getting back to work.
Q. So what did you do on your days off?
A. I took some 'me' time and spent many hours reading in local cafés whilst drinking lemon tea. Walking was a particular favourite. I love the intense level of light that you find in snowy areas.
Q. Do you think you'll go skiing again?
A. I had a wonderful week but found that skiing isn't for me. Whilst I had lots of fun, the accommodation, flights, lessons and insurance were costly and I'm not sure that it would be worth it for me to go again. My husband is keen to go again next year with the children. I'm very happy for us each to do our own thing; I'm keen to go on a walking holiday in North Yorkshire with some friends.
Hilary's responses to her first week of skiing were mixed. The key lesson, though, is that she gave the sport a good shot and made the most of what the location had to offer. First time skiing should be approached with enthusiasm and new ski students should feel comfortable to take things in their stride.
You might also like...