Planning Meals: Why Food is Key for Safe Skiing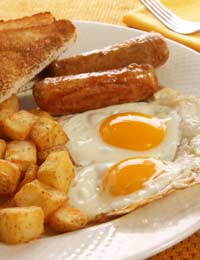 Food is a vital and yet often overlooked aspect of skiing. It is not all about relaxing with a drink during the après-ski routine. Instead, you need to make sure that you are getting the right balance of food and drink during the day in order to ski well and ski safely.
This can, however, require some forward planning. So why do you need to think about food – and what do you need to make sure you are eating?
Why is Food Important When Skiing?
Skiing is a very intensive activity. It is demanding on your body, as well as on your brain. You therefore need to look after yourself while skiing, both in order to get the most out of your time on the slopes – and in order to stay safe.
Food is a key part of this. Without the right food you cannot hope to function properly. It is just as important as the equipment you use and the clothing you wear – and yet a worryingly large number of skiers overlook it almost entirely.
In order for your skiing to be as successful, and as safe, as possible, you need to make sure that you are eating the right food.
What Do I Need to Consider?
Balance is important when skiing. You should plan your meals carefully, and make sure that you get the specific nutrients and ingredients that you need throughout the day.
You will need a lot of high energy foodstuffs. It is a cliché, but breakfast really is the most important meal of the day when it comes to skiing. Think about breakfast foods that will release energy slowly over the course of the day; granola and other grains are a good place to start, along with high-energy fruit. Alternatively, you might start the day with a hot breakfast that contains a mixture of carbohydrate and protein – maybe sausages and hash browns, for example.
Lunch can be more difficult. There is always a temptation to go for the restaurant option and gorge on fried food – but this is seldom the best choice. Instead, go for foods that are not so heavy that you will be struggling to move, but that contain enough protein to get you through the afternoon. Fondue on the slopes is, of course, another cliché – but it is one that has some basis in good sense. Cheese is a good, healthy, high energy food that can give you a quick burst at lunch. Indeed, some skiers recommend keeping blocks of hard cheese on your person in order to have something to nibble on when you need a quick energy boost.
By the time you reach dinner, you will probably be ready to kick back and relax a bit. Remember, though, that you will have burned off a large number of calories during the day, so don't skimp on food. As long as you are eating the right things, there is no need to be abstemious on the slopes.
It is also vital to remember the importance of hydration. It is very easy to forget to drink enough while you are on the slopes, but this can be dangerous. Make sure that you take regular drink breaks, and that you have enough water on you.
Top Tips for Packing Ski Food
Some skiers want to pack food to take with them on the slopes. This might be because they want to avoid the expense of on-slope restaurants, or it might be because they intend to take longer, cross-country trips.
If you do want to pack your own food, you need to consider how to do this safely and effectively. A good backpack is essential here. Make sure that you find one that allows you to distribute weight across your back – ideally one with a built-in back support.
You will also need a good supply of sealable sandwich bags. Alternatively, you might choose to bring pre-packaged food, but if you take this option you should pay particular attention to the ingredients in order to make sure that you are getting the nutrients you need.
Food is a vital part of a successful, safe skiing excursion. By giving some thought to what you are eating, you can make sure that you get the most out of your trip.
You might also like...