What is Nordic Skiing all about?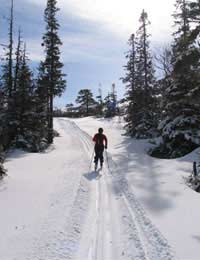 Nordic skiing encompasses all of the free-heel ski disciplines; cross-country (classic and skate, which includes biathlon), telemark, backcountry touring, and, not for the faint-hearted, ski jumping! Between them, these sports contain enough fun, exercise, adrenalin and adventure to push everyone's buttons - from kids to grandparents, walkers to extreme athletes, and from adrenalin junkies to those who just want to 'stop the world and get off'.
Is it for Me?
Whoever you are, and whatever your way of life, there's a Nordic sport to suit you.
Alpine skiers wanting to learn new skills and discover new challenges - try going down the red runs on 'skinny skis' to improve your balance and weight transfer!
Backpackers looking to supplement their summer trekking with winter exploration - try ski touring!
Endurance athletes bored with the dire tedium of the treadmill in the winter - try cross-country skating!
Parents looking for something different to do with the family - put a disposable BBQ and some sausages in your pack and head out on the cross-country tracks!
Oh, and girls, if you're looking for the best all-round body toning exercise (and want to eat chocolate from dawn 'til dusk) look no further!
Don't Take My Word for it Though - Have a Go Yourself!
Most ski areas, cross-country and alpine, and in-town ski shops offer equipment to rent. Getting lessons from qualified cross-country and telemark instructors will give you a proper feel for each sport and make learning fun instead of frustrating! For backcountry touring, guides can be hired for day tours or week-long courses, teaching you both backcountry ski techniques and winter survival skills that will increase your confidence and safety in the wilderness.
So forget shuffling endlessly around the lake at the bottom of the downhill ski resort wondering what it's all about - spread your wings, free that heel and give Nordic Skiing a proper go! I warn you, though, you may get hooked…..and that will mean five more sets of skis! (Well four then, probably much safer just watching the ski-jumping!)
You might also like...