World Cup Ski Racing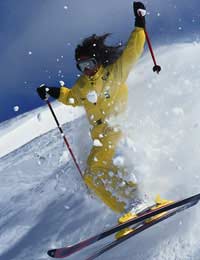 Television has made stars of World Cup skiers and corporations have sponsored the races and racers since its inception in 1967. Jean-Claude Killy of France took home the first and second World Cup Evian crystal globe trophies but Nancy Greene of Canada made the concept of a World Cup pay off. The tense duel in Jackson Hole, Wyoming between France's Marielle Goitschel and Nancy Greene captivated audiences. Only an outright win at the slalom final could give Greene the overall points to beat Goitschel and take home the title. Finishing 7/100 of a second over Goitschel, Greene won the World Cup and validated the competition to worldwide viewers, corporate sponsors and the International Ski Federation (FIS). The following year the World Cup became an official FIS event.
The Set Up
Concerned that not all nations with ski teams would embrace the World Cup, organizers were placated when even Kitzbuhel, known for being wary of anything they did not create, hung a "Weltcup" banner in front of the Hotel Tenne. Coined the same year as the Soccer World Cup, the Alpine World Cup chose a point system similar to sailing to decide winners. Counting only the best of three finishes from each discipline towards the overall ranking, coaches expected their racers would only participate in the minimum required competitions.
Skiers embraced the World Cup system and proved to be cunning strategists though, by racing at all events, even after accumulating their maximum number of points, in order to deny their competitors the chance to collect points.
An annual event, the World Cup has become the premiere ski race. Because the FIS Alpine World Ski Championships and Winter Olympic Games only happen every two and four years, the World Cup decides the best of the best and challenges the award every year. Cross-country, ski jumping, Nordic combined, men's and women's alpine, freestyle (moguls and aerials) and snowboarding disciplines all have their own separate FIS World Cup competitions. Snowboarding competitions include snowboardcross, parallel GS, parallel slalom, big air and half-pipe. For 1500 possible points, alpine skiing is broken up into downhill, super G (added in 1985), giant slalom, slalom and the super combined, which collaborates downhill and slalom.
The Competitors
In recent years, Austrian and American men have vied for the top five positions. The 2006 overall winners Benjamin Raich from Austria, Aksel Lund Svindal from Norway, Bode Miller and Daron Rahlves of the USA and Michael Walchhofer also from Austria respectively top the men's top five.
For years the women's top five has drawn from a variety of nations; in 2006 Janica Kostelic from Croatia, Anja Paerson from Sweden, Michaela Dorfmeister and Nicole Hosp from Austria and Lindsey C Kildow from USA held the positions.
Sponsors capitalize off of name recognition, thus many networks including TSN, Eurosport TV, OLY, ESPN, NBC and C4, televise today's World Cup. Individual racers also reap the rewards collecting sponsors from gear to food, and support their training and race fees with commercial spots and television cameos. Last year Solomon and Atomic ranked first and second places in both the men's and women's competitions as well as over all.
2007 has proven to be warm and dry and many races have been cancelled, moved or postponed due to irreparably slushy courses. While the competition for top skier continues, the delays may hit everyone in the pocketbook. But the beauty of the World Cup is that no matter what happens, it will come again next year.
ON SNOW IS FOR SALE.
This website is for sale [more info].
You might also like...