World Cup Telemark Competitions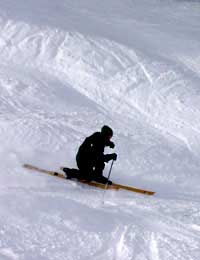 Telemark skiing is a form of skiing that takes its name from a county in Norway where the sport was developed. The Telemark technique is actually a method of turning where a skier bends the knee low to the ground lifts the heel and moves one ski in front of the other. This produces an aesthetically pleasing, flowing and rhythmic turn that cannot be replicated on regular downhill alpine skis.
Its all About the Shape
The difference between telemark and alpine skis is the binding and the shape of the ski. Telemark skis are wider than alpine skis and use a binding that is only fixed at the toe, allowing the heel to move up and down freely, whereas alpine ski bindings are fixed at the toe and heel.
For this reason it is also known as "free heel" skiing. This makes Telemark skiing ideal for ski touring, as it is easy to travel up hill as well as down. With the addition of "skins" to the base of the ski, Telemark skiers are able to travel over undulating terrain much faster than alpine skiers, snowboarders, or shoe shoers.
Telemark skiing is thought to be one of the oldest forms of skiing. Though it still remains a minority snow sport compared to alpine skiing and snowboarding, Telemark skiing has seen a revival in popularity over the last three decades, and there are now many clubs, competitions and festivals held all over the world to promote and practice the sport.
As with most sports, the highest level of competition is the World Cup Circuit. The locations where World Cup competitions are held change each year, and events have been held in a diverse range of countries such as Switzerland, Canada, Slovenia, France, USA, Finland and Spain.
As well as the world cup events, there are many national and regional competitions such as the Central European Championships, The Scandinavian Tour and The North American Tour.
Like its cousin, skiing, there are a number of Telemark disciplines that competitors may enter, all of which are governed by the International Ski Federation/Fédération Internationale de Ski (FIS).
Most notable of these events is the Giant Slalom. This is akin to alpine giant slalom, expect that all turns must be performed using the Telemark turn. Failure to do so results in a time penalty. In addition to negotiating the slalom gates, there is a jump built into the course. Participants must clear approximately 30m and land in the Telemark position to avoid penalisation.
Other competitive disciplines include Telemark Classic, Telemark Sprint Classic, Mountain Telemark, US Extreme Free skiing Telemark (held in the USA every year) and the Sun Valley Tele series.
However, despite the large number of events worldwide and the increasing popularity of Telemark skiing, it is still not a recognised Olympic event in its own right, though the Telemark turning technique is used in some of the cross country skiing disciplines.
The Future for Telemark Skiing
Like snowboarding, which took many years to become accepted, it is likely that Telemark skiing will eventually gain entry to the Winter Olympic arena.
Due to its minority status in the snow sports world, many recreational and competing Telemark skiers enjoy a tight knit international family and a high level of camaraderie which is less apparent with more popular snow sports.
ON SNOW IS FOR SALE.
This website is for sale [more info].
You might also like...