Alpine Pole Technique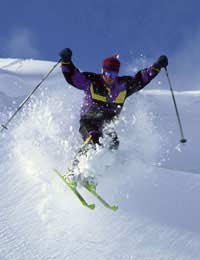 Most beginner and intermediate alpine skiers love their poles even though they don't actually use them while turning. Handy to push one's self on flat spots, poles are not supposed to provide balance, stop you or slow you down. They are designed, however, to help parallel skiers initiate their turns.
The Pole Question
It is because we see so many poles falling about like untrained swords, or people sticking them between their skis to stop—inevitably tripping and sometimes gutting themselves—that many ski instructors do not recommend poles until skiers, especially children, are parallel skiing.
Humans have learned to walk on our feet without our hands, and we have since applied that technique to skiing. It is hard enough to make balanced controlled wedge and Stem Christie turns without thinking about what we are doing with the poles in our hands as well, therefore we do not need poles until we become intermediate skiers.
Tap and Turn
Flexion and extension are an integral part of skiing. Poling aims our extension and gives us something to think about that facilitates proper movement and alignment. As you move from the finished turn to the initiation of the new turn, reach the tip of the downhill pole as far as the tip of your ski, down the fall line where you want to aim your hips as you extend. Do not stab the snow, but gently tap it, and ski around that spot.
While that pole is tapping the snow, the other hand should remain up, with the tip of the pole facing the ground behind you. When your skis come into the fall line, bring your hands back to neutral position, with your elbows at 90º and your hands in front, shoulder width apart, parallel to the slope. As you finish your turn, tap with the new downhill pole, the pole on the side you are about to turn to. As easy as that you are poling. Remember to always use your downhill pole and never cross your body with them or tap between your skis.
An easy way to get in the habit of using your downhill pole is to ski in a natural half pipe. Go up one side, tap naturally with your downhill hand, turn and then ski up the other side and repeat with the other hand.
The faster you turn, the quicker you will need to tap and being your hands back up. Think about punching your hands forward; this will increase your aggressiveness and keep your hands up. On steeper or bumpy terrain, tap the snow straight down the hill on top of the obstacle if one exists, at your boot rather than the tip of the ski.
When your other hand is correctly forward, the position helps you keep your body and hips facing down hill, and facilitates a smaller radius turn. It also gives you an extra point to push from when jump turning. Some bump skiers think of the mounds as sleeping polar bears. With this in mind, hold 'em down with the downhill pole, then punch 'em in the nose as you ski around. In reality, you will be taping the top of the mogul, and aggressively bringing your hand back up. The aggressiveness helps you stay on top of your skis, and stick to your chosen line.
Tuck Position
Tucking is generally only necessary for racers, but it is fun and we all like to get speed on the flats sometimes. Proper tucking technique incorporates the poles.
Bend over so your shins rest on the front of your boots with your feet hip to shoulder width apart. Rest your chest on your thighs, raising your butt and look up. Now tuck your poles under your armpits and pull them forward so your elbows are in front of your knees. Your poles should never be sticking up in the air, toward other skiers, or falling about. With them tucked against your body, you are aerodynamic and don't look like a gaper. Of course, tucking on crowded slopes or in beginner areas can force ski patrol to confiscate your lift ticket.
Proper poling aids in good alignment, flexion and extension and turn shape. Done with a little zest, poling also increases your aggressiveness helping you stay on top of your skis. And, of course, they come in handy for getting to the lift, skating down cat tracks and pulling the occasional snowboarder.
You might also like...