Apres-Ski - A Survival Guide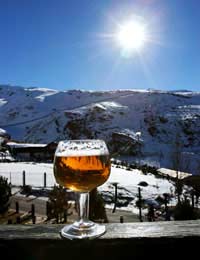 All that bracing mountain air, all those thrills and, unfortunately, the all too frequent spills, in the snow are guaranteed to work up an appetite. And not just for a hot lunch back at the chalet. Because after the adrenalin rush of the slopes, there's only one option when the sun goes down: après ski. And why not? Everyone's doing it, letting their hair down, having fun. And if the calorie intake is a little more than usual, well, there will be plenty of opportunity to work off those potential extra pounds the following morning.
Having Fun
It's not as if there is a lack of opportunity to have fun, either. The facilities that are now offered by resorts across Europe and North America range from pubs, piano bars and restaurants to night clubs where you can party long into the night. It's a good way of getting to know your fellow pupils in the beginners' or intermediate class, or breaking the ice with that chap you accidentally knocked over on the nursery slopes.
Unfortunately, as all too many après-ski enthusiasts will testify, there is a price to pay for this partying. And not just a very sore head that has to be cajoled into the ski suit the following morning. Alcohol, and yes we're talking about too many drinks here, dehydrates and weakens the muscles, making them more susceptible to injury. The hangover will mean that your judgment is impaired, too. All this adds up to a less than satisfying morning on the slopes, whatever the level of your ability. You can be sure that should you be a member of a class, the instructor is not going to be slow in recognising the pupils who have been neglecting their sleep.
If you really want to begin to take the sport seriously, then moderation is called for.
Physical Demand
Those with little or no knowledge of skiing assume that there is little physical demand involved. This could not be further from the truth. Mental and physical fitness are essential, and the better you want to become, the sharper you have to be both in terms of technique and fitness levels.
So before you head off to the resort, ensure that under the list of essential items that includes Gucci sunglasses and passport, you also add good nutrition and rest. You can have superb ski wear and expensive skis, but if your body is suffering, then even the best equipment is not going to save you from ending up face down on the slopes.
And Remember...
Good meals and quality shut-eye will restore energy levels. So by all means enjoy a cocktail or two, but head to the restaurant in good time, and ensure you are tucked up in bed long before Dancing Queen starts pumping out of the disco speakers. The time for showing your skills on the dance floor is the final night before you leave, when your week's skiing has come to an end. Even then, the only thing you are likely to pull is a muscle. Until then, the only moves you want to be making are on the piste.
You might also like...