The Difference a Pole Makes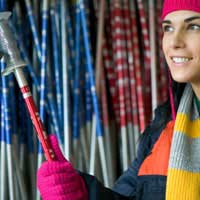 Once upon a time skiers used one long bamboo pole to push themselves; oh how the times have changed. Poles now vary depending on what type of skiing you do. From retractable backcountry poles to nearly unbreakable materials lengths and shapes there is a pair of poles for everything.
Alpine
When held upside down just under the baskets Alpine poles should measure so that your elbows are at 90º. Baskets vary according to the typical conditions you ski in, bigger baskets for powder conditions and smaller baskets for hard pack. They are replaceable if you loose one, or decide you need a different size. Grips are made of variously soft rubbers and plastics. While poles are not the most technical piece of equipment, a seasoned skier can tell the difference.
Smaller soft grips are more comfortable and easier to hold.
Large plastic grips with hard loops make poles easy to drop and painful if your hand is caught.
Nylon straps retain poles in a fall and allow you to have a more relaxed hold. Higher end poles have adjustable straps, so putting your glove should not be difficult.
Note: hang your pole in the air off your wrist. Gently set it on the snow and bring your hand straight down, do not twist. The strap should not wrap over your thumb, but lie on your wrist and connect to the pole in your palm. Having the strap over your thumb can cause Skier's Thumb, a sprain.
Most ski poles are made of aluminum or carbon/graphite composite. All poles break, but aluminum poles break a little easier, making great chimes. Typically only aggressive advanced skiers have problems with broken poles, thus rentals are usually the less expensive aluminum. Carbon/fiberglass poles are the middle of the line, offering the lightness of composite carbon/graphite poles with a nicer price tag, though they are not as strong as carbon/graphite poles. Composite poles are lighter, which is nice for quick turns, and being thinner they cause less drag. The flexibility of the composite materials absorbs some shock when jumping or hucking, or otherwise playing in the rocks before it hits your arms and shoulders, and prevents bending as metal poles can.
Most poles are straight, until we jam them between rocks or fall on them. However, some poles do come curved for aerodynamics. Racers like pre-bent poles to help them be in the tightest tuck possible; the poles wrap around the body in tuck position, minimizing drag.
Adjustable backcountry poles have many advantages. They can be adjusted to keep skier's shoulders level while crossing a hill, one shorter than the other, or they can be extended for use as a probe pole. It is also convenient to be able to extend the poles for trekking, and shorten them for descent. The shock absorption aids ski beaten knees and alleviates much wear and tear of the back and shoulders. Adjustable poles also work great for summer backpacking. The drawback is that components fail a little too regularly, but they are replaceable and manufacturers are perfecting the design.
Cross Country
Overland touring and cross-country poles are a bit different from alpine poles. Longer, they should come to your armpits, and stiffer, they provide locomotion while skiing. Like alpine skiing, though, choose your baskets based on what type of skiing and conditions you most experience. Large baskets keep the pole from sinking in soft snow; small triangular baskets keep the poles from sinking in groomed courses and are aerodynamic for minimal swing effort. The lightweight composite shafts and customizable straps of higher end poles, increase comfort and improve energy transfer for more effective polling.
From £12.00 to £80, poles for all skiing purposes vary according to performance technology. For recreational intermediate skiers, rummage sale used poles may do the job saving a few bills after splurging on great skis, boots and bindings, but if you have a few quid left, indulging in nice poles compliments your other gear and minimizes shoulder stress.
You might also like...