What to Wear When Skiing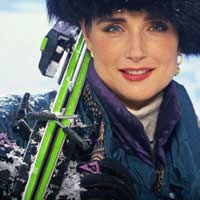 Gear includes more than just the boards you ride; it's the clothes that keep you warm safe and looking cool. The wrong threads can be worse than showing up to work naked… leaving you embarrassed and exposed.
Inside Out
While most resort skiers don't suffer hypothermia, opting for hot toddies in the lodge long before they get that cold, being "freezing" cuts even the best powder or corduroy days short. Proper layering will allow you to regulate your temperature without returning to the lodge. Keep in mind that cotton kills, so start with soft long underwear made of light wicking fabrics like silk, Marino wool, capilene or polypropylene. Wicking fabrics pull sweat off your body away from your skin keeping you warm and dry. Layers of fleece insulate well, and support breathability. Available in micro, medium and heavy weights, fleece layers well together or separately. If hiking is in the plan for the day, layering will allow you to keep cool on the trek up and warm on the glide down.
A Note on Shells
Shells come in all levels from unlined soft-shell to waterproof Gor-Tex. The soft-shell is the most breathable, often water resistant (not waterproof) and stylie for city wear. The most water resistant soft-shells have taped seams and waterproof zippers. Waterproof shells are often overkill, as they do not allow sweat to escape, thus keeping you wet and cold. However, at lower altitude resorts where downpours are probable, Gor-Tex jackets may be a necessity. Lined jackets can add more warmth, but limits layering and compromises breathability. Pit zips and cinch cords also help regulate heat and keep the snow out of your coat. Down jackets are great for truly frigid days and with taped seams can be water resistant. No matter what style, buying a jacket that actually fits, rather than one that is fashionably six sizes too big, will keep you warmer, preventing the warm air from escaping out the bottom.
Jeans should only be worn skiing on Gaper Day. They hold water, promote hypothermia and signal to other skiers that you don't know what you are doing. Ski pants follow the same rules as jacket shells as far as waterproofing goes, but lined pants with vents are heaven. The nylon cuffs, designed to go on the outside of your boots, keeps the snow out and the reinforced ankle shell limits wear and tear. The only things that should be in your boot are your sock and foot!
Top Down
Most heat is lost from your head and your feet, so skiing with a hat or helmet in the winter is the smart thing to do. At a minimum, earmuffs or headbands protect your ears from frostbite. While helmets are not required (except at some kids ski schools), like seatbelts they save lives, especially at crowded ski areas and in backcountry accidents. Additionally, helmets can increase confidence, and in many cases, a little confidence is the only difference between a beginner slope skier and an intermediate skier. Also, vents aid in temperature regulation, refuting the idea that they are too hot.
Your eyes can be sunburned or wind burned on even the cloudiest day. Goggles keep your eyes from drying out, and with changeable lenses can improve your vision in flat light, super sunny weather and night skiing. Sunglasses will minimize eye sunburn but will not stop windburn. Children, especially, should wear goggles.
The old idea in socks was that more is better. Rather, it should be better socks are better. No amount of cotton socks can compare to one pair of wool socks. Alpaca and other soft wools and synthetics wick water and sweat, and are cozy. Ski specific socks rise to your knee preventing bunching and keeping your calves warm, some even have padding on the shin. Don't wear your socks to the resort; put them on just before you put on your boots. And, never walk around the lodge in just your socks, unless you have another dry pair to change into.
Gloves made specifically for snow sports are water resistant or waterproof and have a goggle squeegee and nose wipe built in. Mittens generally keep your hands warmer, but impede use of your fingers. Many companies make mittens with long wrist covers to keep out snow, that also have glove liners, so if you are not directly exposed to the cold if you do have to take the mittens off. Neat addition: most also come with strings that cinch on your wrists, so they don't fall off the lift!
Dressing for success applies to skiing. Aside from not looking like a gaper (read: fool) being dressed properly can save your day, leaving more time to perfect a new turn, hike the next bowl, or demo new skis.
You might also like...