Skiing Techniques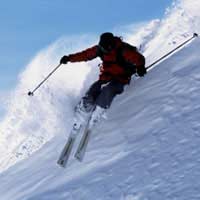 Skiing like any other sport, requires an athletic stance and balance. Edging, rotation and flexion/extension movements build turns from a balanced stance.
Balance
To start, stand with your feet hip or shoulder width apart, knees and ankles slightly bent. Beware you are not bent over at the waist; "leaning forward" as some people say, comes from your knees, ankles and hips, not your head. Pretend you have a hundred pounds sticking out of your boots between your shin and boot cuff. If you lean back, you'll loose your money, so keep your knees and ankles bent, but not stiff. When flying down the hill maintaining this position will give you more control. Do not let your knees come together, if you need, pretend you have a basketball between them. Like any sport, you should be standing balanced on your whole foot, and looking where you are going, not at your feet.
Edging
All alpine skiers use their edges; in the snowplow, tips together tails apart, we use opposing edges. In the parallel, we use similar edges. The key to edging is tipping your ankles to flatten the ski, allowing you then to rotate the skis into a new turn. Our edging transition should happen as we finish our last turn and start the next. Feel your skis moving from your pinky-toe edge to flat foot to your big toe edge with your shin matching the movement along the boot cuff. Sometimes it is easier to pretend your knees are chasing each other; lead with the knee that is about to become the uphill ski, but never let them catch each other.
Edging Drills
Skating to the lift is good practice for getting on and off your edges. Also, try walking up the hill on your edges with your skis pointing across the slope, then slide back down keeping your skis perpendicular to the fall line. Feel the ski flatten to slide and tip back on edge to stop. Remember leaning over to look at your skis is not a balanced stance.
More advanced skiers can try railroad track turns. Start on a quiet easy slope; point your skis down the hill and tilt your ankles to the left or right. Do not twist your feet; let the skis do the work. The more side cut your skis have, the more round your turns will be.
Rotation
The straight skis of twenty years ago required a lot of rotation to create a turn. Today's shaped skis require only finer movements. Most of the rotation happens throughout the turn to create various turn shapes and sizes. Releasing your edges, rotate your foot to start the turn. Also pretend your hips are headlights; always point them where you want to go…Down the Hill. The twist, like a spring, loaded waiting to uncoil, will rotate your feet and skis naturally.
Rotation Drills
Practice rotation on a flat spot by walking in a circle with your skis on. Advanced Skiers can practice with hockey stops. Point your skis straight down the hill, turning your feet quickly to point your tips up the hill and skid your tails down. Remember your athletic stance, keeping balanced without leaning over.
Flexion/Extension
Flexion and extension are the joint actions that give you room and power to move your skis. It can be minor bending of the knees and ankles to engage or release the edges in a snowplow or a three-dimensional extension of the knees and ankles while the body moves down the hill from the hips (think pelvic thrust) at the top of the turn. The length provided by the extension gives the ankles room to tip to new edges, and uncoil from the hip, rotating the skis into a new turn. Flexion, bending the knees and ankles, puts the pressure back on the edges to utilize their power.
Flexion/Extension Drills
Practice flexion and extension by bouncing on your skis; see if you can continually hop like a bunny, bringing your skis on and off the snow, all the way through your turn.
For the three-dimensional extension, start at the end of your turn, twist your hips down the hill and flex your knees and ankles. Extend up and out down the hill, hips leading. Your skis should slide to 45º between the horizon and fall line. Stop and try it again. Repeat both directions.
Have patience in your turns; allow your skis time to point to 45º at the beginning and end of your turns, and spend some time with your skis in the fall line. It will smooth out your turns, and give you more control. If you get frustrated worrying about which movement to do when, take a deep breath, sing a song and enjoy the rhythm of your turns, the movements will follow. Just remember to cock you hips and hold your money.
You might also like...