Getting Started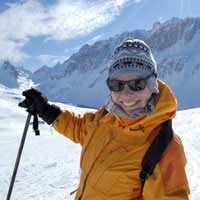 Renting gear, buying tickets and getting dressed always seems to take longer than it should, especially for first time skiers. It is the most work intensive part of the day, but there are a few tricks to save some time and hassle.
Getting Dressed
Arriving at the base area dressed to ski can cut down on time, and save you from changing in the car if you're not staying in a ski-in ski-out condo. Dressing for skiing success consists of layers. Start with a base of wicking fabrics like Marino wool, capilene, polypropylene or silk, then add as much fleece as needed, and top with a water resistant or waterproof shell, depending on the climate.
Helmets keep your head safe and the heat in and have vents to let it out. If you are opposed to helmets. Consider earmuffs or an ear band to prevent frostbite if you don't want to wear a helmet or hat. Never ski without eye protection. Sunburned eyeballs cause blindness and are painful. Goggles are the best, as they protect from wind and sun, but at the very least wear sunglasses. Don't forget the sunscreen.
One pair of wool ski socks beats many pairs of cotton socks. Ski specific socks rise to your knee preventing bunching and keeping your calves warm, some even have padding on the shin. Keep your socks dry and warm until you put on your boots.
Side note: ski pants are designed to go on the outside of your boots to keep the snow out, including the nylon gater part. The only things that should be in your boot are your sock and foot!
Winter gloves should be waterproof or water resistant. Cool features of ski/snowboard gloves include waterproof mitten shells with long wrists to keep out snow, with attached glove liners, and strings that cinch on your wrists, so they don't fall off the lift!
Now you're dressed to go…time to get skis and lift ticket.
Lift Tickets
Many hotels offer skier packages that include lift tickets. If you've booked an all-inclusive trip, you'll receive your ticket when you check in. Attach it to your ski pants, or an outer layer that you expect to wear everyday, rather than trying to find scissors to cut off and replace the wicket.
If you did not book an all-inclusive vacation, you can usually get your ticket when you rent gear or book your lesson. Resort owned services, like the resort rental shop should be able to sell you all you need at once, but if you rent equipment at an independent store, you'll need to stop at the ticket window or lesson counter. Buying a weeks worth of tickets at one time is usually cheaper, but resorts offer numerous packages depending on your needs, including nonconsecutive day, lower mountain only (for beginners), multiple resort, etc. For smaller commuter ski areas in the US, where you can't spend the night, local grocery stores sometimes sell day tickets for cheaper.
Once in line for rental equipment consider your needs. Will you be renting for the week? Are you experienced enough that you want to try different types of skis? Do you have your own boots? Buying boots may be the best purchase you can make regardless if you plan on becoming a skier. Rental boots can be old, packed out and even rear entry, as opposed to front entry which flex better and are more common. If you are renting, ask for demo or soft shell boots.
They should fit tight, almost uncomfortably. If you have more than two finger lengths behind your heel, with your toes gently touching the front of the boot, it is too big. Bigger is not better! The general stock rental skis have a decent side cut and make it easier for beginner skiers. Try demo skis to see how different skis ride. For beginner to intermediate skiers your skis should be as tall as your nose. Don't lie about your ability; bindings are designed to let the ski go in certain types of falls. Saying you are better than you are can make them too tight and cause injury if they don't come off. Oppositely, being too modest can make them too loose, and they'll come off when they shouldn't.
As for poles, with the tips up, grab them under the baskets; your arms should be at a right angle. Poles are not necessary for beginners, and children are rarely given them until they can make parallel turns. Keep in mind that we ski on our feet, not our poles.
Dressed, ticketed and with gear, now you're ready to hit the slopes. Enjoy!
You might also like...