Skiing Hazards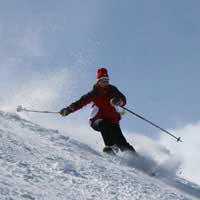 Like all athletic endeavors skiing has its own set of dangers. From a slide for life down an advanced run, to being knocked over by a speeding bullet otherwise known as a child, skiing can be hazardous to your health. In America, the National Ski Area Association promotes the skier safety code and some states have laws to back up the code . European resorts legally require guests follow FIS's (International Ski Federation) ten rules for the conduct of skiers and snowboarders, and in Italy, helmets are also legally required for students under 14 years and under.
The Rules
So what are these legally binding safety rules? Anywhere you ski, obeying these rules is just common sense.
Always stay in control, adapt the manner and speed of your skiing to your ability and to the general conditions on the mountain, and be able to stop or avoid other people or objects.
People ahead of you have the right of way. It is your responsibility to avoid them. Leave plenty of space when overtaking a slower skier/snowboarder.
You must not stop where you obstruct a trail, or are not visible from above, (i.e. base of jumps or knolls).
Whenever starting downhill or merging into a trail, look uphill and yield to others.
Observe all posted signs and warnings. Keep off closed trails and out of closed areas.
Prior to using any lift, you must have the knowledge and ability to load, ride and unload safely.
Always use devices to help prevent runaway equipment. For skiers this means functioning breaks, and leashes for snowboarders and Telemarkers.
When climbing up or down, always keep to the side of the piste (run)
Potential Hazards
So what is so dangerous about skiing? We've all been on heavily travelled roads; accidents happen; people run into each other, cars slide off the road when it gets icy. Seatbelts are like helmets, they save lives and sometimes build confidence. No skier stays on his or her feet at all times. And the number of skiers and riders on the slopes can increase the chances of an accident. The most common parts of the body that skiers injure are their legs and thumbs. To help avoid broken bones and torn up knees, take a lesson from a certified professional instructor and listen to their directions. And, of course, always follow the rules of safe skiing.
The environment can cause many skiing dangers. Aside from sunburns, frostbite and hypothermia, which are easily avoided with preparation, (See Keeping Your Body Functioning in Cold Weather) dangerous snow conditions can affect safe skiing. Whether you catch a tip, hit a death cookie (loose ice ball on the run) or take a harder run than you meant to ending up on your head is easy to do. Even the best skier can take slide-for-life. Knowing how to self arrest—flip your skis below you, if you've fallen head first, and dig your edges in until you stop, or grip your pole with both hands digging the tip in until you stop—can save your life. Practice on a safe run so you are prepared if you ever have to rely on your ability to stop yourself. On a powder day, tree wells can be a danger. Catching a tip can send you flying. If you land head first in the area around the tree where snow has melted, getting out can seem impossible. This is where skiing with people is vital. Don't panic. Create an air pocket around your face, and feel round you to see if you can find up. Being covered in snow is very disorienting, but if you are calm, you are more likely to be able to dig yourself out, or wait to be rescued.
Much like following the rules of the road, using common sense can keep you out of harms way. Be aware of your surroundings and if you're not comfortable, ask for help or go another way. Follow your instincts; they are the animal part of us that have our survival in mind.
You might also like...