Choosing Snow Shoes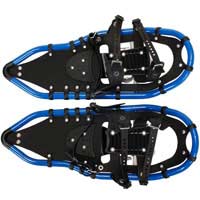 Back in the good ol' days snowshoes looked like giant wood and rawhide tennis rackets and walking required wide coordinated steps, running was obscene. But now, thanks to modern technology snowshoes are built with lighter materials, suspension systems and narrower widths for more comfortable, easier use.
Sex Specific Snowshoes
Sex, weight with pack and intended use should be considered when choosing the perfect pair of snowshoes. The snowshoe industry figured out that men and women perform physical activity differently, long before the ski industry. Women's Q-angle, the angle created at the knee where the thigh bone angles in, is greater than men's, which produces a narrower stance and abducted, toes turned-out, stride. And women's gait tends to be shorter and faster than men's. To address this difference most snowshoe companies make sleeker women specific shoes with a tapered tail and narrower nose. Some raise the rear frame to reduce heel drag and fatigue.
As women's arches tend to pronate, or flatten, some designs have arch support and bindings that wrap around the whole foot limiting rotational torque and thereby pronation. Bindings molded around women specific lasts and padding for insulation attend to the size and temperature variance.
Weight
The next factor in choosing snowshoes is weight. Though not entirely separate from intended use, determining your weight with a pack will help determine your surface area bounds. Generally speaking, a heavier person (or lighter person with heavier pack) on lighter, drier snow requires a large snowshoe surface area, and vice versa, a smaller person on packed snow can use smaller snowshoes.
Intended Use
Many of us do not stick to only one type of terrain in any outdoor sport. Therefore choose your snowshoes based on your style of activity. Are you a recreational weekend hiker out for a stroll on packed trails, or an aggressive marathoner? Perhaps you are a backcountry adventure-seeker breaking trail. Sinking conditions such as powder or deep snow require larger surface area, while packed trails, brush, steep and/or icy terrain necessitate compact shoes for maneuverability. The goal is to choose the smallest size snowshoe that will support your weight, and balance with efficiency and maneuverability in the terrain you'll be covering.
Construction
Today's snowshoes are constructed with aluminum frames and synthetic decking making them light and durable. Leading the industry, ArcTec™ decking resists abrasion and puncture, with durability down to -40°C. Contoured footbeds, spring-loaded suspension systems, switchback harness and composite construction are just a few of modern design features that combine for greater stability on uneven terrain and a more natural stride.
Much like telemark bindings, the style of a binding is a matter of personal preference. Rotating bindings attach to the decking under the balls of the feet and allow the tails to drop, while the nose crampon digs into the snow. Snow slides off the tail reducing fatigue, but rotating bindings can make climbing over obstacles and walking backwards difficult. Fixed bindings do not pivot much; the tail follows the foot. This design is preferred for conquering obstacles and reversing, though on forward motion the tails can build up with snow, and kick it onto your legs.
Lateral flex, side-to-side responsiveness, and stabilized heel alignment are important for traction and comfort when traversing or walking over uneven terrain. Each company has their own answer to this problem. K2's suspension allows the foot to flex naturally and gives the legs an extra energy saving push, while the frame and decking keep contact with the snow. Tubbs' Control Wings support side to side as well as fore and aft with a rigid base that integrates with a padded tongue and sides of the bindings. Other answers include traction bars on the underside of decking creating lateral stability as well.
V shape heel and toe crampons create traction for both climbing and descending. Length, number, location and crampon material affect the quality of traction in various types of snowpack. Recreational-style snowshoes typically have moderate traction, with crampons mainly at the forefoot.
Climbing snowshoes generally have aggressive, toothed crampons at both the forefoot and the heel. Stainless steel crampon systems remain sharp but increase snowshoe weight, while aluminum crampons dull over use, but perform well on packed trails and rolling terrain. Titanium crampons provide maximum strength and ultimate lightweight traction for running. Specialized snowshoes receive crampons that are already attached to the hiker's boot.
Modern bindings feature buckle, cinch and lace systems that are easier to put on and embrace the whole foot for better support. Unlike skis and snowboards, snowshoe bindings and frames are integrated and compatible with just about any type of athletic shoe, including hiking and snowboard boots, and plastic mountaineering boots. High quality graphics decorate snowshoes as well, making your winter feet highly functional pieces of art.
You might also like...