Joining a Snowshoeing Group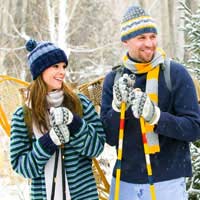 Groups motivate us to get out and explore our worlds when our houses could be cleaned errands run or sweaters knitted. Yet our friends aren't always around when we need a push out the door. Take the first step and join or start a snowshoe club.
Where to Start
Finding places and people to winter hike with is not hard. Begin by checking out your favorite snowshoe manufacture's website. Determined to promote snowshoeing culture as much as their products, the websites list races, festivals, clubs (mostly in the US and Canada) and favored trails. Strap on your snowshoes for the Tubbs Romp to Stomp® breast cancer snowshoe series or join novices at a Winter Trails® event. Run runs and races, retail events, snowshoe clinics, demo days, family festivals and guided tours also make for fun days of meeting new snowshoe mates and connect your with clubs in your area or where you most like to go. Older snowshoers can also participate in AARP events in the US.
Ski and hiking clubs often organize snowshoe trips in addition to other outings. The American Hiking Association organizes snowshoe events and leads members in environmental activism, volunteering and offers resources such as trail guides and gear help. The Finnish Snowshoe Association, the European Snowshoe Committee, the Japanese Snowshoe Federation and the Canadian Snowshoe Union govern official snowshoe events in each country, provide trail information and liaise between manufacturers and customers.
Creating Your Own Club
If you are the motivated one in a group, once you join an existing club, you can use it as a platform to plan your own trip, depending on the structure of the club. Or, with the community bulletin board now online, organising a group for snowshoeing trips is easier than ever. A few friends can be the start of larger club.
Starting your own club can provide services to your community and create a group of people so you never have to go snowshoeing alone. The first step is to determine what all you want your club to accomplish. Is it simply going to facilitate trips, or coordinate equipment swaps and manufacturer deals? Do you want to lobby for environmental causes, or organize community clean-ups and tail maintenance? Education? Party?
Next you need to contact potential members. This is where community bulletin boards, websites, My space and Snowshoe Magazine come in handy. Meet with fellow enthusiasts who are willing to help you organize the club. Plan a time and place for an inaugural meeting or hike and send out emails, post the event online, contact newspapers and radio stations for a listing on their community calendars.
A successful club has defined rules and guidelines and keeps members interested, so establish membership criteria and benefits, informal rules for group operations and a schedule of meetings and events. Reference by-laws of other sports clubs; name your club, establish purpose and goals, responsibilities of member and officers, procedure for becoming members and officers, schedule for official meetings and non-profit status. If necessary, elect a President, vice president, treasurer, and secretary.
Group trips to snowshoe festivals can build enthusiasm and membership. Starting with short local trips and social gatherings for hot chocolate or beer so members can get to know each other and exchange ideas. Organise informational meetings to discuss fundraising, trip planning, volunteer options, race openings, clinics, etc.
Even if your group only includes you and your best friend, be sure to communicate. A newsletter, email list and/or website can keep members informed. Organise your member information, event data and club paperwork; as the club grows staying organized will save your sanity and perpetuate the club's success.
Joining a snowshoe club give you camaraderie on the trail and a venue to meet fellow aficionados. If you can't find one in your area, start your own you can travel to the snow.
You might also like...