Distance Skiing Races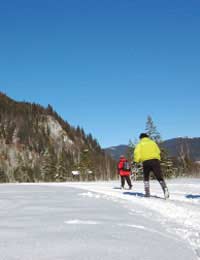 Cross-Country skiing has always been a method of distance travel. Though the skis have changed pioneers skied to distance cities and across Greenland, just prove they could. There is a special breed of people who need to push their physical limits, in modern times distance races meet this need. For cross-country skiers, FIS and other cross-country clubs organize marathons all over the world.
Worldloppet
Every year, the Worldloppet Ski Federation promotes cross-country skiing marathons in fourteen countries. Founded in Sweden in 1978, Worldloppet incorporates one top race from each member country. Skiers that complete at least 10 Worldloppet races, including one overseas, if not all 14, become Masters. There are currently over 2400 Masters, some of whom have completed the circuit multiple times. Each race with its own personality and traditions has options for everyone, from 79km races to 5km sprints mingling elite and beginners skiers to create an atmosphere of camaraderie and festivity.
The season opens in Australia with the Kangaroo Hoppet in August, followed by the youngest member of the Worldloppet, the Czech Republic's Jizerská padesatká, taking place in January when there is enough snow. Officials cancelled both the Jizerská and Austria's Dolomitenlauf for 2007 due to lack of snow, and Marcialonga race officials are trying to make enough snow for the Italian race. The bulk of the marathons take place in February, beginning with the König Ludwig Lauf (King Ludwig Cross-Country) in Germany. The La Transjurassienne in France, Sapporo International Ski Marathon in Japan and Tartu Marathon open track, in Estonia, are held the same weekend. The remainder of the Tartu Marathon events occurs the next weekend at the same time as the Canadian Keskinada Loppet.
The American Birkebeiner, held in Hayward, Wisconsin, Finish Finlandia-hiihto and Swedish Vasaloppet fill out the last weekend in February's races. The Swiss and Norwegian races, Engadin Skimarathon and Birkebeinerrennet end the season in March.
The FIS World Cup consists of eight marathons in Italy, Estonia, the Czech Republic, Germany, Switzerland, France and Sweden from January to March. Skiers race courses varying in length from 42km to 90km and the top six competitors, decided by points, receive a portion of the EUR 21,000 prize.
American Ski Marathon Series
Also founded in 1978, the "Great American Ski Chase" or American Ski Marathon Series holds eleven cross-country races in the Pacific Coast, Intermountain West, Midwest and New England. Similar to international marathons, festivities include family fun for all level of skiers and create an atmosphere of unity. Marathon courses vary from 30 to 50 kilometers, and in the American tradition of corporate sponsored events, races start in January with Pepsi Challenge in Biwabik, Minnesota, followed by the Subaru Noquemanon Ski Marathon from Ishpeming (home of the National Ski Hall of Fame) to Marquette, Michigan.
The Craftsbury Marathon in Craftsbury Common, Vermont finishes the January races. February events include Colorado's Boulder Mountain Tour, the North American Vasa in Traverse City, Michigan, the Lake Placid Loppet in Lake Placid, New York, the Mora Vasaloppet, City Of Lakes Loppet and Minnesota Finlandia in Mora, Minneapolis, and Bemidji, Minnesota, and the Worldloppet American Birkebeiner in Hayward, Wisconsin. The March races include the Yellowstone Rendezvous in West Yellowstone, Montana, which skis racers through the undeveloped forests of Galatin National Forest along the Continental Divide. The Alaskan Tour of Anchorage, Great Glen to Bretton Woods Adventure in New Hampshire and the Royal Gorge's California Gold Rush in Soda Springs, California wrap up the season in March.
A few individual fun marathons are held each year, as well. The Canada Ski Marathon in Quebec and the Balkan Ski Marathon at Pamporovo Resort in Bulgaria are open to anyone and are not linked to a competition series. The International Medical Triathlon Association (IMTA) in Germany also organizes a physician and pharmacist specific cross-country skiing duathlon and triathlon World Championship in Oberammergau.
Most marathon series allow skiers to choose races in which they want to participate, so enthusiasts can test their endurance once or as many times as their bodies can handle it. And in an effort to promote the great sport of cross-country most events have shorter racers for beginners or people who just want to join in the fun. Although most of the world has been discovered, cross-country skiing allows individuals to see it themselves, and push their limits, just because they can.
You might also like...