Getting on a Skiing Team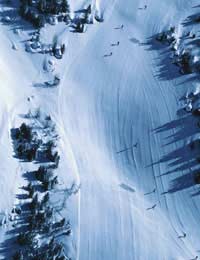 Ski racing is as varied as the people who love it. From cross-country to downhill being on a racing team provides coaching, cheerleading, someone to take your jacket to the finish line and people to commiserate about the run with.
Gate Skiing
Not all racing requires a team. Nastar courses are open to the public and are a great way to test the gate skiing water. A cross between giant slalom and slalom, the courses are fairly easy and offer immediate rankings in relation to the course time. If you love it, many cities have recreational ski teams that race at regional mountains. Resorts also offer race-training workshops throughout the season. Diehards can cross hemispheres to train year round, or train at Mt. Hood and other year-round glacial resorts.
Gate racing consists of four types of courses, slalom, Giant Slalom (GS), Super G and downhill. Commonly identified as the races where competitors bash the poles, Slalom courses require quick feet and finesse. The flagless gates are close together, roughly 45-60 gates in 120-200m vertical drop, and 0.75m to 13m apart. "Break-away" gates have hinges at the base allowing racers to knock them over, though not the aim, the fastest way between to points is a straight line. GS is a faster race and along with Super G and downhill requires a helmet.
The 250-400m course should be run in at least 50 seconds and the number of gates varies in a ratio of 12% to 15% of the vertical drop, about 30-60 gates. GS requires quick feet and power, flowing through terrain changes with high speed, linked, carved turns. Super G, faster and longer than GS, runs about 350-600m with only a 7% to 10% ratio of gates, and should also take a minimum of 50 seconds. Generally, racers only get one run on super G and downhill courses, but allowed a training run beforehand. The fastest of all FIS sanctioned events is the downhill. Dropping 400-800 vertical meters with only enough gates to determine direction, running a downhill course takes power and stamina.
Extreme Racing
If traditional gate skiing is too confined for you, freeskiing may be more your style. Freestyle competition is new enough that teams are not nearly as common as in gate racing, but regional teams do exist. Ski academies and resort-sponsored teams exist as well as citywide recreational teams. Not limited by location or conditions, any day of skiing can become a day of practice, by working on fluidity, form and aggressiveness. Skiing with other competitors or training with a coach will help fine-tune your eye for difficult, steep lines.
Due to the big mountain nature of Extreme Freestyle racing, resorts hold competitions on the runs with challenging steepness, variety of available lines and sometimes a mandatory cliff line. Usually held on black and double black runs, or out-of-bounds, the mountain and judges choose the best run with minimal national standardization. Due to the exposure, competitors are required to wear helmets and spine protectors.
Cross-Country
Similar to alpine gate racing, cross-country offers regulated races for participants of all levels. National level teams train for FIS sanctioned events and the Olympics, while regional teams participate in recreational races. High schools and colleges in mountainous areas offer varsity or club teams and travel all over. While tryouts or winning events may be necessary for some teams, recreational teams are usually walk-on.
Demo Teams
An alternative to being on a team, involves competition to be the best, for acceptance rather than racing. Anyone can become a cross-country, alpine ski or snowboard instructor, and with a lot of work earn the highest levels of certification. Beyond the top instructor level, are educator or clinician, and examiner. Once a skier achieves examiner, he or she can apply for the professional ski instructor demo team in their country. Demo team members travel to events all over the world, participate in magazine photo shoots and promote modern techniques in their disciplines. Demo team members must be able to ski any mountain terrain and condition with professional instructor grace, smoothness, aggression and technical prowess. If demo team or the star skiing on your national ski team sounds like too much work, and extreme competitions too scary, check you local ski area for fun events. Resorts and sports networks often sponsor spring jams and various types of relays for promotional fun weekends. Get a group together and make your own team!
Whether gate bashing, cliff hucking or just playing, being on a team imbues skiing with camaraderie, travel, training and fun.
You might also like...