Difference between Skiboarding and Snowboarding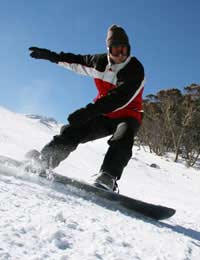 Skiboarding is increasing in popularity, but there is still a lot of confusion about its nature. Many people mistakenly think that it is a form of skiing, while others consider it to be an alternative to snowboarding.
In reality, skiboarding is a sport in its own right – but it is similar to both snowboarding and skiing. So how do the sports compare?
What is Skiboarding?
Skiboarding is a winter sport that takes combines some of the very best characteristics of snowboarding, skiing, and skating. It is easy to pick up, and it is becoming increasingly popular amongst those who want an easy, fun alternative to skiing – and amongst those who relish the 'extreme sports' excitement of activities like snowboarding.
How is it Different to Snowboarding?
The uniqueness of skiboarding lies primarily in the equipment used. Skiboarders, unlike snowboarders, use two boards – one on each foot. The boards are also much shorter than snowboards, although they are wider than conventional skis.
Skiboards are, however, designed in a very similar way to snowboards. The edges of the boards are designed to make carving as easy as possible – just like on snowboards. Skiboards also use the same bindings as either snowboards or skis, depending on your choice of skiboard. This means that you can easily switch between the two. Perhaps just as importantly, this means that the amount of new equipment you need to buy could be limited to the skiboards themselves.
Skiboarding is also similar to snowboarding in that tricks play an intrinsic part in the sport. Skiboarding is often seen as an adrenaline sport, and tricks like rail rides are common. The difference, however, is that skiboards' relatively small stature means that they tend to be easier to manoeuvre than a snowboard. Skiboards are also twin-tipped, allowing skiboarders to switch backwards and forwards easily – just like on a snowboard.
What About Skiing?
Skiboarding also has some obvious similarities with skiing. To begin with, skiers will be familiar with having two boards on their feet. The difference, however, is that skiboards are much shorter than conventional skis; they are generally less than 100cm long, although length depends on factors like the skiboarder's height.
Skiboards tend to be much faster than skis. At the same time, though, their length means that movement is much easier than on conventional skis. Indeed, this is one of the main attractions of skiboarding.
Another major difference between skiboarding and skiing is the lack of poles. Ski poles are not required by skiboarders – partly because the stance is very different. Many skiers move to skiboards presuming that, as skiboards are 'just short skis', the stance will be the same. In reality, though, an skiboarders tend to find that a posture closer to that used by inline skaters is most effective.
Will a Snowboarder Pick it up Quickly?
Part of the beauty of skiboarding is the ease with which beginners can pick it up. It is generally considered to be much easier to become proficient at skiboarding than at snowboarding – or, indeed, at skiing.
The number of snowboarders who are shifting their allegiances to skiboards is increasing. While it might well feel strange to have two boards under your feet rather than one, you are likely to be able to pick it up pretty rapidly. Indeed, many snowboarders find that they quickly value the ease with which they can manoeuvre their skiboards.
Skiers are also likely to take to skiboarding quite quickly. If you have used twin-tipped skis, you will already have a pretty good idea of some of the differences. You should be prepared, however, for a couple of major differences. The first is posture, as discussed above. Just as importantly, though, you should remember that skiboards can be significantly faster than conventional skis – so bear this in mind before launching yourself down a slope! Finally, remember that the edges of skiboards make carving easier. The skiboards will do much more of the work for you – so again, factor this in when making turns.
Skiboarding is a fantastic sport – not just for newcomers but also for those who have previously enjoyed skiing or snowboarding. If you are already comfortable with either of those activities and you are looking for something new, skiboarding could offer you a great, alternative way to experience the snow.
You might also like...