What is Skiboarding?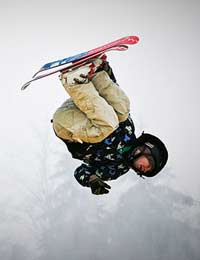 Skiboarding endured something of a fall from grace during the last decade. Following a period in which the sport was very much in the ascendant, its star seemed to wane.
Today, though, thousands of people around the world are rediscovering the joys of skiboarding. While it has its roots in a range of other winter sports, skiboarding is a unique pastime that is both easy to pick up and very exciting.
What is Skiboarding?
Skiboarding is an increasingly popular winter sport that takes some of the best elements of other sports and combines them. Skiboarding is generally compared with skiing – but in reality it is just as similar to ice skating, snowboarding or, in fact, inline skating.
Skiboards are worn on the feet, in the same way as skis. They also generally use the same bindings. The difference, however, is that skiboards are much shorter, and slightly wider, than regular skis. They are also symmetrical.
The nature of skiboards allows riders to pick up a lot of speed very quickly. At the same time, though, their size means that they are very easy to control.
What is its History?
Although small skis have been used for almost a century, skiboarding as we know it only really rose to prominence during the 1990s. A number of separate manufacturers began making skiboards (although under different names) at the beginning of the decade, and a trend began to grow over the next few years.
Skiboarding became increasingly popular during the '90s, and professional skiboarders began to materialise around 1998. It was during this period that firm rules began to be set down regarding the nature of skiboards. It was determined, for example, that skiboards must be less than 100cm long – although today, several manufacturers make skiboards up to 110cm in length.
Following a boom in popularity, the sport became more obscure during the early part of the new century. Today, though, it is enjoying a resurgence, with high-profile competitions springing up around the world.
Is it the Same as Snowblading?
This is a common misconception. There are several different phrases that people incorrectly use to refer to skiboards – and 'snowblades' happens to be the most common. You might also hear the sport called 'skiblading', for example.
The confusion tends to arise because 'snowblades' are a range of skiboard model. The word itself, however, is a trademark of a specific winter sports manufacturer.
Why Would I Choose Skiboarding?
Skiboarding has a range of enticing characteristics. Perhaps the most important is its relative ease. Skiboarding enthusiasts are very keen to explain how easy it is to pick up the sport; indeed, some claim that a complete beginner can begin to feel comfortable on skiboards within just a couple of runs.
This ease is partly due to the construction of the boards. Their length means that they are very easy to control. In addition, though, skiboards are built like two small snowboards, with edges designed to make movement very easy. As well as increasing their manoeuvrability, this makes them ideal for riding rails and performing tricks. Indeed, tricks are a big part of the appeal of skiboarding, both as a pastime and as a spectator sport.
Skiboarding is also very popular amongst those who have previously enjoyed ice skating or inline skating. The sports share many similarities; indeed, the stance and posture recommended for skiboarding is rather closer to that favoured by inline skaters than it is to a conventional skiing stance.
Another advantage of skiboarding is that the equipment can be quite significantly cheaper than skis or snowboards of comparable quality. The number of skiboard manufacturers is growing all the time, and this is helping to drive down the cost. Furthermore, you don't need any poles as you would with regular skiing – and if you already have boots or bindings, you can use these on your new skiboards.
Skiboarding is a fun, exciting sport. It is still relatively young, and people are coming up with new ways to experience the sport all the time. Best of all, though, it is remarkably easy to pick up. So if you are wondering whether or not skiboarding might be for you, give it a go – you might well find yourself hooked!
You might also like...