Fitness for Skiers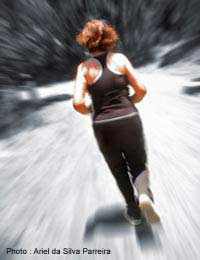 A week's skiing is physically demanding and can prove a real challenge for those who are unaccustomed to regular exercise. Individuals with high levels of fitness also face the test of using their body for extended periods of time, for days on end. Physical preparation will help you to make the most of your skiing break, as will taking care on the slopes and looking after your body at the end of a day's exertion.
Preparing For a Skiing Break
Those that arrive on the snow with low levels of fitness often struggle. Therefore, it is important to do some form of training in the run up to your skiing holiday. Increasing endurance levels is key, particularly if you are likely to be skiing for the majority of each day. Consider taking up jogging, or at least regular fast walking. You might also think about practicing Pilates or yoga several times a week in order to improve your posture and flexibility. Weight training will also be beneficial. Low weights with high numbers of repetitions will build muscle without putting too much strain on the untrained body. This method will also help to boost stamina. In addition, it is worth visiting a local dry ski slope to either learn or refresh your memory of the techniques involved with skiing.
Fitness on the Slopes
On your skiing break, be careful to take things in your stride. Whilst it might be tempting to ski hard from dawn until dusk on your first day, make sure you pace yourself. Build up the length and intensity of your physical activity as the week progresses. Take regular breaks to regain focus and minimise the risk of injury.
To Stretch or Not to Stretch?
The jury is out when it comes to the benefits of stretching before exercise, including before skiing. Whilst some argue that it helps to warm muscles and increase their pliability, thus minimising the risk of injury, others suggest that stretching can increase the risk of ripping and tearing muscles. They key is to find the right balance for you, as an individual skier. Do some light stretches if you feel they are of benefit, or just begin at a gentle pace and up your game when it feels safe.
Caring For Your Body
At the end of a long day's skiing, spare a thought for your tired body. Perhaps unwind with a herbal bath oil or book a massage if you hotel offers such a service. Care for any bruises or blisters that may have appeared over the course of the day. Putting in a little effort each night will ensure your comfort the next day. A good night's sleep will also maintain the body's condition.When skiing, be sure to wear a sun cream with a high SPF. Reapply this throughout the day. Not only will this help you to avoid a red complexion, it will also protect your skin from long term damage. In the short term, sunburn can cause headaches and sickness and leave your body feeling fatigued, jeopardising your body's health and knocking your skiing performance.
Preparation, concentration and aftercare are key for those looking to get the most from their skiing holiday. With a little added effort, skiing can help put you in touch with your body and enable you to realise its true potential.
You might also like...