Spinal Injuries on the Slopes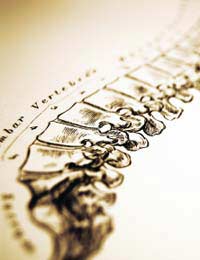 Severe spinal injuries, like head injuries, are fortunately quite rare on the slopes but if someone takes a bad tumble or has a collision from which they don't get up, then whether unconscious or not, you should think 'safety first' and always assume that they may have suffered a spinal injury. This should definitely be the position you should take when any of the following are involved:
The casualty is unconscious; has visible signs of significant injury above the collar bone; has a collision with a rigid, fixed object;any fall from more than 10 feet or twice the height of the casualty, if the fall is less than 10 feet: anycasualty with multiple trauma.
Spinal Injuries and the Symptoms
Even when a casualty is conscious and is able to feel their limbs, it's important to remember that this does not necessarily mean that they have not suffered a spinal injury. Common signs to look out for include:
Where the casualty suffers any loss of function – to a leg, for example
Where there is a loss of sensation or an unusual sensation anywhere on the casualty's body (pins and needles is a common one)
Any pain felt between the neck to the bottom
If the patient is unconscious, then always err on the side of caution and when carrying out initial first aid such as ensuring that they are breathing and that their airway is clear and stanching the flow of any blood, do not move them as you could be causing irreparable damage if they've injured their spine.
Other symptoms of potential spinal injury in an unconscious casualty can also include a slowing of the pulse and low blood pressure and also a general state of all of their limbs being 'floppy'. They may also encounter a loss of bladder or bowel control and, in men, can show signs of penile erection.
Before Help Arrives
In addition to all of the usual basic safety precautions such as safeguarding the area in which the casualty has fallen to enable safe first aid to take place, do not let a potential spinal injury prevent you from carrying out any first aid to manage the casualty's breathing or circulation problems or the clearing of their airway.
Just ensure that you keep the casualty still. In certain instances, the casualty may be conscious and may want to try to move but you should discourage them from doing so. The only time you should ever move a casualty whom you suspect might have suffered a spinal injury is where their safety might be even more compromised by not moving them. An example might be if there is a danger of falling rocks landing on top of them.If the casualty is trying to move, then as well as offering reassurance, it's advised to have somebody else keep their neck absolutely still which can be achieved by having someone on either side of the casualty to hold their head steady.
Once medical help does arrive, then the casualty will be assessed and, if spinal injury is suspected, then they'll be fitted with a rigid cervical collar. Once it's in place, the casualty will be slowly and carefully manoeuvred and immobilised onto a suitable transportation mechanism, such as a scoop stretcher, a spinal board or a vacuum mattress. Then they'll be carefully carried to the ambulance to be taken to hospital to be assessed.
You might also like...