Wrist Injuries on the Slopes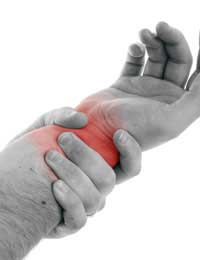 Wrist injuries tend to occur more often in snowboarders than in alpine skiers and the amount of fractures in general which snowboarders suffer, also tends to be much higher. The main reason for this tends to lie in the way snowboarders' equipment is designed and the way it's used.
As snowboarders ride with both feet anchored to the snowboard in non-release bindings, then any loss of balance and the possibility of them suffering a fall means that they are far more likely than, say, alpine skiers, to stretch out a hand to try and break a fall. This is why they will encounter far more wrist injuries and fractures than a skier would.
Types Of Wrist Fracture Injuries
There are several different types of wrist fracture and the severity will depend upon the force and speed of the impact and the exact position of your arm as you fall. The four main types of wrist fracture are:
Displaced fracture – where the bones have been pushed out of position
Open/compound fracture – where the bones have been pushed through the skin
Intra-articular fracture – where the break goes through the line of the wrist joint
Comminuted fracture – where the wrist has been shattered into numerous fragments
And, whilst all of these injuries sound bad enough on their own, people can sometimes suffer a combination of more than one type and even all four!
The Importance Of Wrist Guards
It cannot be emphasised enough that, for snowboarders especially, wrist guards should always be worn. Given the frequency and potential for wrist fractures and sprains in snowboarding, it would not be an exaggeration to say that wearing wrist guards when snowboarding is just as important as wearing a helmet.
Learning To Fall Correctly
One of the best ways in minimising the risks to your upper limbs as a snowboarder, especially your wrists, is to get some qualified instruction in learning how to fall correctly. There are techniques you can learn in how to fall forwards or backwards without using your arms. That might not seem possible as a person's instinct when they're about to fall is to stretch out their arms but it can be learned and, with constant practice, it will soon become natural to you.
Beginners To Snowboarding
Because snowboarders cannot recover their balance if they're about to fall with their other leg with both legs being attached to the board, the inability to cushion a fall without instinctively putting your hands out is one of the main reasons why beginners to snowboarding are far more at risk of suffering wrist injuries. Even competent skiers who have a go at snowboarding suffer the same fate.
Therefore, whilst some of the more advanced tricks and skills that you can see snowboarders perform is one of the biggest draws in getting newcomers to want to try the sport, it's imperative that snowboard instructors begin with teaching novices how to fall correctly as well as the highlighting the importance of wearing wrist guards.
After all, as a beginner, if you encounter a bad wrist injury early on, it's quite likely it will put you off trying again. Even the most basic wrist fracture can put you out of action for 6 to 8 weeks and more complex fractures will keep you off the slopes a lot longer than that.
You might also like...