Durable Boards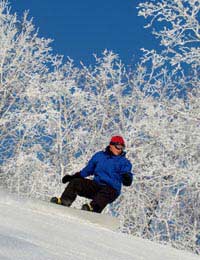 Snowboard construction has come a long way from the days of the plywood Snurfer. During the '70s and '80s passionate riders like Tim Burton and Tom Sims poured much time, money and effort into developing snowboard technology and increase their performance, which gave rise to the snowboards we ride today.
Design and Improvements
There are two slightly different construction types - sandwich construction and capped construction. The only difference is that with capped construction the top sheet curls over the sides to meet the base, whereas sandwich construction the side wall of the board is exposed. There is no difference in performance between the two.
The most notable improvement in snowboard manufacture is the reduction of weight. Even boards made just 10 years ago are considerably heavier than the boards of today. Materials such as carbon fibre and fibre glass greatly aided the improvement of designs. Nowadays, almost all snowboards on the market are durable, light weight and stylish.
Another major change is the advent of "twin tips". Previously, a snowboard had a distinct nose and tail and could only be ridden in one direction. The twin tip design allows the snowboarder to ride forwards (regular) or backwards (switch of fakie) as the nose and tail are essentially identical.
Components
There are now many different snowboard manufactures in Europe, North America and Asia. Though they may look simple, snowboards are actually quite complex, and there are a number of components that make up any one deck:
Top Sheet – as the name suggests, this is a thin layer on the top of the board on which the graphic is printed
Wood Core – almost all boards use wood at the very core of the design, because is flexible, light, and absorbs vibration well.
Fiber glass – this sandwiches the wooden core and increases the stiffness of the board. It can be used in several layers.
Inserts – stainless steel holes into which bindings can be screwed.
Base – made of UHMW (ultra high molecular weight) polyethylene and also known as p-tex, this is a hard, low friction surface that helps the board glide over the snow. Special types of wax can be applied to the base regularly to reduce friction further.
Steel Edges – early boards lacked metal edges, which lead to problems on hard or icy snow. Now most boards have steel edges, though some manufactures also make edge-less boards due to the popularity of rail riding. (metal edges are a hazard when riding metal rails).
Epoxy Resin – acting like a glue, this binds all of the components together.
Boards are normally made one stage at a time by hand with the help of machinery such as a press.
New Ideas
In the recent environmental movement, certain snowboard manufacturers have moved to using more sustainable materials for board construction. For example the brand Arbor uses wood such as bamboo, koa and eucalyptus for its top sheets.
There have also been some other quirky developments such as piezoelectric damper and vibration dampening "slime walls" - a urethane sidewall reputed to improve performance on rails.
Though the main components of all snowboards are essentially the same, it's subtle differences in materials that make boards different. Low end snowboards tend to be heavier and more flexible, where as the most expensive boards are very light weight and tend to be stiffer.
Construction also varies for each discipline. Shorter more flexible boards are favored by freestyle snowboarders, whereas long, narrow shapes suit carvers. Most recreational snowboarders opt for an "all mountain" freeride board, which are long and stiff enough to handle powder and piste conditions, but will also allow riders to perform in the terrain park and half pipe.
You might also like...