Snowboarding Hazards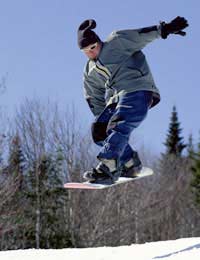 Like other winter sports snowboarding is associated with certain risks. Due to the nature of travelling at high speeds down slopes with many other skiers and snowboarders around, there is a risk of collision. Therefore, all slope users should follow a set of rules designed to reduce the likely hood of an accident.
Slope Etiquette
Look out for other skiers or snowboarders before crossing or joining a ski run.
The person in down hill always has right of way, adjust your speed and path accordingly.
Pull down the safety bars on a chair lift and hold on to your belongings.
Leave plenty of room when overtaking other skiers or snowboarders.
Avoid stopping in narrow areas, below dips, or on blind corners where it is difficult for others to see or pass you.

Keep to the side of the slope if you wish to trek up or down the mountain.
Move to the side of the ski run after a fall if you need to rest before setting off again.

Maintain a good distance between yourself and other skiers.
Allow other skiers to pass easily if you know they wish to overtake you.

If possible, assist other mountain users if they require help.
Contact mountain rescue if someone has been injured.
Obey all resort rules, signs and warnings!
Terrain Parks
The growth in popularity of freestyle snowboarding has led to a huge rise in the number of terrain parks and with them the size of jumps, rails and half pipes has increased. This has inevitably caused a corresponding rise in the number of injuries occurring in terrain park areas.
Often, snowboarders will take on an obstacle which is beyond their technical ability and this can lead to injuries. Terrain parks normally mark their obstacles according to size and difficulty. Beginners should first become comfortable with the easier features before attempting more advanced lines.
Helmets
The use of helmets whilst snowboarding has become more and more common and is especially popular in North America, though Europe is following slowly. Some resorts have made it compulsory to wear helmets in terrain parks, in a bid to reduce head injuries.
Off Piste
Snowboarding off piste presents a whole set of new hazards that are not found within ski resort boundaries. Outside of the resort limits there are no marked runs and no ski patrol. As a result, there are many more dangers facing snowboarders, such as avalanches, crevasses, unmarked streams and rocks. There is also a risk that a small injury can become life threatening in off piste areas, as a snowboarder may not be able to move to get help, and therefore could die from exposure.
Off piste and backcountry snowboarding requires in-depth knowledge of the local terrain and a good understanding of avalanches and how to avoid them. Avalanche equipment such as an avalanche transceiver, probe and shovel should be carried at all times when outside of ski resort boundaries.
Snowboarding need not lead to injuries; if you wear adequate protection, follow slope etiquette and don't push yourself too far beyond your ability level, you can minimise the risk of damaging yourself, or anyone else.
You might also like...