Backcountry Snowboarding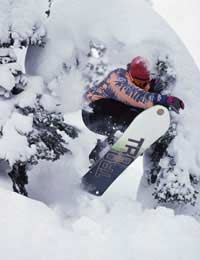 Though many snowboarders are happy to ride within ski resort limits some prefer to get away from the noise and crows of the groomed piste and head out into unmarked, untracked, natural terrain. It's easy to understand the lure of the backcountry; the wonder and beauty of the natural world that can only be found away from mechanical ski lifts and man-made trails entices many snowboarders to leave resorts behind.
What Exactly is Backcountry Snowboarding?
Back country snowboarding is simply the act of snowboarding outside of ski resort boundaries. It can range from simply hiking out of bounds of a winter resort, to multi-day trips involving helicopters, snow cats, snow camping and technical climbing.
History of Backcountry Snowboarding
When snowboarding first appeared back in the late 1960s, it was banned from ski resorts. It took many years before snowboarding started to become accepted and it wasn't until the 1980s that the sport began to boom. In these early days, those who wanted to practice snowboarding had no choice but to head into the backcountry, and thus backcountry snowboarding was originally the only way to snowboard.
After snowboarding became accepted by ski resorts there was no longer a need to head to the backcountry, but many people enjoy the serenity and peaceful nature of the backcountry, which is harder to experience within resort boundaries, and thus the backcountry element of snowboarding has remained a popular, if not a niche area of the sport.
Hiking Methods
There are three ways in which you can chose to hike up the mountains.
Snow shoes? Probably the most common way of hiking, the snowboarder carries his board on his back, and hikes up the mountain using snow shoes and poles. The disadvantage of this technique is the extra weight of the board/snow shoes that must be carried.
Split Boards? These are specialised boards which split into two skis for hiking up the mountains and can be joined up into a single board to descend the mountain. A special adhesive? skin? is attached to the base of the ski on the way up which gives extra grip, preventing the climber from slipping backwards. The advantage of this method is the reduced weight and greater efficiency. However, split boards do not perform well on groomed snow, and are best left for the powder.
Approach Skis? These are short skis used for ascending which are more efficient than snowshoes. However, they still must be carried on the way down, and therefore more weight must be carried than when using a split board.
Snowboard? As backcountry snowboarding normally involves riding deep snow, a longer board is required than for groomed piste riding. A length of between 165-200cm is ideal, depending on your height and weight.
Backcountry Hazards
By leaving behind the safety of groomed, patrolled and avalanched controlled ski resort areas, you enter an inherently more hazardous world. Backcountry snowboarding should therefore only be attempted at first under the leadership of an experienced, preferably local guide, of which there are many offering their services in most ski resorts.
One of the greatest dangers that face snowboarders who venture into the backcountry are avalanches. Therefore backcountry snowboarders should be equipped with avalanche transceivers, a shovel and an avalanche probe, and be well trained in their use.
Most ski resorts run avalanche training programmes and anyone interested in heading into the backcountry is advised to enrol in a course.
So, next time you want some fresh powder and a bit of peace and quiet, get a guide and head into the backcountry.
You might also like...