The History of Snowboarding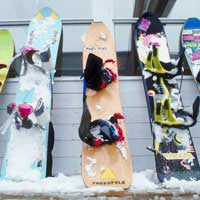 There is no way to pinpoint exactly where or when the first snowboard appeared or who made it. In snowboarding's 50 year history, there have been many people involved with the development of the sport. However, the person normally attributed with building and marketing the first snowboard is Sherman Poppen of Michigan in 1965.
The Early Days
The story goes that upon seeing his daughter sliding down the back garden on a single ski, Poppen was inspired to create a custom-made board with no bindings. Originally he used two skis attached to each other, but later went on to market the idea to a manufacturer and sell over half a million specially made plywood boards, which he named the "Snurfer".
The snurfer was largely seen as a child's toy, but Poppen did organise some competitions in order to promote his invention and one of the people who became very keen on the Snurfer was the now legendary Jake Burton.
During the late '60s, another man named Dimitrije Milovich began to make boards too, and formed a company called Winterstick. His boards won some strong publicity, with articles in Powder, Playboy and Newsweek, which helped to get snowboarding more recognition and acceptance in the winter sports industry. However, Milovich left the snowboarding business in 1980.
In the meantime, Jack Burton had been working on his own board designs and most importantly, he developed special bindings to attach his feet to the board. This meant that he had a strong advantage over other snurfers and dominated the competitions.
Another young American, Tom Sims, was also working on his own snowboard designs around this time. His first board was made as part of a school woodworking project, but he went on to form one of the biggest snowboarding companies in the world, along with Burton.
Ski Resorts Open Up
Up until the early '80s, snowboarding was banned from ski resorts, who saw it as just a passing fad that would soon lose favour. During this period, anyone who wanted to practice snowboarding had to do so by hiking up backcountry mountains and snowboarding down.
It wasn't until the mid '80s that a few ski resorts saw the financial potential of snowboarding, and started to allow snowboards onto their slopes. These resorts were soon reaping the rewards and other resorts began to follow suit, but it was another decade before the majority of ski resorts allowed snowboarders access and even to this day there are a small number of ski areas which continue to exclude snowboarders.
This sudden influx of snowboarders brought to the slopes a certain type of attitude and fashion that the average skier didn't appreciate. Whilst skiers simply wanted to ski down the hill, snowboarders sought to jump and slide obstacles, creatively using any feature of the terrain to perform tricks.
They began to ride over trees, handrails, even cars and this caused a lot of friction with skiers and led to a long skier vs. snowboarder feud which was fuelled by the media. Today this feud has largely disappeared from view as the two sports have learned to tolerate each other, and have even benefited from each other, borrowing styles, fashions and tricks from one another.
Olympic Fame
In 1998 snowboarding finally became accepted into the winter Olympics, although snowboarding's debut at the Nagano games will always be tainted with the memory of the marijuana scandal which saw Canadian Ross Rebagliati striped of his gold medal after testing positive for cannabis, only to have it returned when he claimed he inhaled the drug passively.
The Future
Snowboarding these days is a well established sport, with its own culture, super stars, fashions, equipment and almost 50 years of history. From a single sport a number of factions have evolved including alpine racing, freestyle, free riding, backcountry and combinations of these.
The next 50 years will undoubtedly see further progression of the sport, with bigger jumps, longer rails more spins and faster speeds.
You might also like...