How to Become a Ski Instructor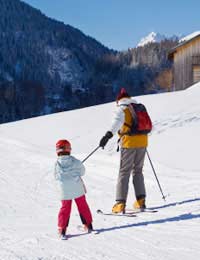 Here in the UK, if you want to become a qualified ski instructor, you need to contact the British Association of Snowsport Instructors (BASI). It is the governing body of both ski and snowboard instruction in the UK and is wholly responsible for the training and examination of British ski instructors.
The important aspect of this is that BASI is also a member of the International Ski Instructors Association (ISIA) and, therefore, the qualifications you gain are internationally recognised allowing you to become a ski instructor almost anywhere in the world.
It's important at this point to state that if you have a professional qualification gained in either the USA or Canada through either of their governing bodies, that they are not considered advanced enough to obtain a ski instructor job in countries like France, Switzerland and New Zealand.
Therefore, unless you intend instructing outside of these countries, certification via BASI or another body affiliated with the ISIA is crucial if you want to be able to teach anywhere.
Can Anyone Train to Become a Ski Instructor?
No. In order for BASI to accept you onto any of their courses, you must be at least 18 years old with around a minimum of 10 weeks' worth of experience as a skier and classed as being at intermediate or advanced level. There are other criteria to meet also which you can find out about from BASI's website.
What Does the Training Involve?
BASI offers a variety of courses in a number of different skiing disciplines and at various levels and grades. Courses are both theoretical and practical in nature and can be based both here in the UK and also in some of Europe's most reputable ski resorts, including the likes of Val D'Isere, Zermatt, Courchevel and others and even as far afield as Vail, Colorado in the USA.
There are courses in skiing disciplines such as alpine, Nordic, telemark, and other courses in things like basic safety and teaching those who may be impaired in some way as well as in snowboarding and also courses surrounding mountain safety and child protection and safety - the latter which is going to be of extreme importance as from 1st October 2008, it will be necessary for you to provide BASI with a Criminal Record Disclosure before it will issue any form of instructor licence which can often take 2 to 3 months to process which is something to factor in to your planning if you're looking to obtain work from a particular date.
What's the Difference Between Level 1 & Level 2 Courses?
Level 1 courses entitle you to instruct within a controlled environment only such as within an indoor skiing or snowboarding facility or dry slope, for example. However, you would need to obtain level 2 certification if you want to work within a mountain environment. One you've obtained level 2 certification in your chosen skiing discipline, this will then allow you to work in most countries in the world although you'll obviously have to obtain the correct work permit if you intend looking for work outside the EU. However, providing you're qualified, the company who is keen to hire you will often be able to sort out all the necessary paperwork.
Providing you meet the criteria to enrol on one of the courses, BASI will be able to provide you with further information and to get you on your way to achieving instructor certification. It's important to be fully committed to seeing this through however, as the courses do not come cheap with some overseas residential courses running into several thousand pounds. There is a more detailed guide to course prices on BASI's own website.
You might also like...