A Guide to Snow Blading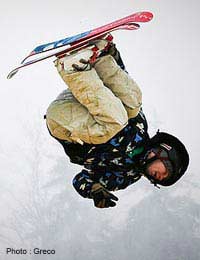 Snowblading is increasingly gaining status as a popular alternative to alpine skiing. The sport uses shorter skis, roughly one meter in length. Many describe it as being like a form of in-line skating that takes place on snow. It is usually practiced by those who are already confident skiers. Read on for a guide to this unusual but enjoyable sport.
Snowblading: The Equipment
Snowblading equipment has a cult-like following amongst some skiing and snowboarding enthusiasts. So what does it involve?The short blades are commonly worn with hard boots. Indeed, many boots used for alpine skiing can also be used for snowblading. Safety bindings are not a typical feature, indeed they are often unnecessary. In most cases, poles are not used either. Many snowblades come with leashes, to guard against them getting lost on the hill.Blades vary in length depending upon the intended application. Those keen to do tricks, half pipes and spins should opt for shorter pairs, whilst if sharp turns and high speeds appeal, long blades should be selected. Many snowbladers also find it easier to balance on longer blades.The blades move easily on hard, tightly-packed snow. Due to their small surface area, however, they are not always suitable for moving on powdery snow.
What Are the Benefits of Snowblading?
Because the skis are so short in comparison to their more conventional counterparts, they can be transported with ease. Weighing less than skis and snowboards, many find them an easier alternative to more traditional equipment. In terms of movements, snow blades are easy to turn. They are also great for performing tricks and 'carving' the snow. Many snowbladers also find the sport helpful in improving their balance; a skill that translates back into alpine skiing and snowboarding.
Is Snowblading Right For Me?
If you enjoy a challenge, snowblading may be just up your street. Many snowbladers argue that it is harder to ski skillfully on blades than it is to perform well on regular skis. Indeed, it is embraced by many as primarily a teaching and learning tool, used to sharpen co-ordination and focus technique.If you are an experienced skier and are looking for a little variety, it might be worth breaking up a week's skiing with a day or two on snowblades. Visiting a local ice rink is a popular way to add a little variety to a holiday on the snow. Snowblading offers a chance to exercise in a different, unusual way whilst still enjoying the benefits of the sun and scenery.
Whilst few skiers abandon their full length skis once and for all in favour of shorter blades, snowblading can be the ideal aid to skiing and snowboarding. Those looking to add a little variety to their experiences on the snow should certainly give snowblading a go. Whilst the supremacy of various snow sports can be debated at length, the key is to have fun on the slopes. Recalling the youthful sensation of rollerblading, snowblading is sure to raise a smile.
You might also like...