Alternative Snow Sports - Snowler Blading and Bike Skiing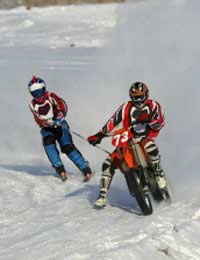 Sometimes when we take a week's holiday at a resort our legs cannot handle as much skiing as we think. This is where alternative snow sports come in handy. Ice skating, snowmobiling and snowshoeing are all common variants. However branching out and trying something totally different like Ski-Biking or snowskating might be what you need to spice up your winter.
SkiBike
Like a scene from
Better Off Dead
, crazy people ride down the mountain on bikes with skis instead of wheels. Riding lifts and ripping runs, the ski-biking is becoming a popular alternative among adventure seekers and skiers who need a day off, but can't stay in.
Ski bikes come in three forms.The first two have ski platforms, though the Traditional SkiBike requires skis on the feet like training wheels, while the hybrid design allows foot free riding. The third, the BoardBike, is built on a snowboard platform. On all models, you ride with your knees gripping the saddle of the bike, and your feet aligned under the seat. You can tilt the bike down the hill countering with your body up the hill to balance while sidesliping. Or, push your inside hand down and lift your outside footski to turn, and then whip the SkiBike perpendicular to the slope to stop.
Ice Karting
While some people rest their legs on snowmobile trips, others test their driving skills in Ice Karts. The world that created the snowmobiles backflip and jeep ice racing, has now created ice karting. Go-carts on studded tires force successful drivers to show off their finesse as much as their invincibility at high speeds. Popular worldwide, indoor ice rinks and outdoor frozen ponds host friendly family races and local championships.
Ski Alternatives
Sometimes we just need a new style of turn. For these moments, monoskis, snowlerblades, and snowdecks quench our desire for something different. Periodically, on the slope, someone will glide by on what looks like a snowboard mounted with side-by-side ski bindings. Created for the interminable narrow stance skier, or simply a throwback to the eighties, the monoboard offers a different kind of ride. Similar in some aspects to skiing, the major difference is keeping your knees together. Telemarkers rejoice; the mono ski comes in a tele version as well! Wearing a florescent one-piece suite, circa 1988 may not be a requirement, but it should be.
For the more modern alternative skiers, snowlerblading may be the ticket. Ski boards, or snow blades, come in two styles for the multiple personalities within us. Shorter boards like Kneissl's Bigfoot incorporate twin tips with more likeness to in-line skates than skis. Usually used without poles, the shorter ski boards can be cool in the half-pipe or doing tricks. Longer snow blades appeal to the carver, big-air, free riding personality. Snowlerblading is for the truly non-conformist skier, as the snowlerblader reputation isn't as cool as you'd imagine.
Snowboard Alternatives
I often hear people say, if you can skateboard you can snowboard, and vice versa. Well now, you don't have to switch because of inclement weather. Snowskates, Snowdecks, Winterskates or Winterdecks all refer to skateboard sized decks meant for snow riding. With a leash, but no bindings, the boards allow riders to perform skateboard style tricks. And much like skateboarding, "the Man" doesn't allow them on the lifts, so you'll be stuck hiking the bunny hill, or forced to poach your urban playground.
Summer Skiing
Like skaters, now cross-country skiers can enjoy there favorite pass-times year round, rather than trading in their skis for summer-time running shoes. Roller skis combine cross-country skis, boots and bindings with in-line skate wheels, for dryland skiing. Now you can perfect your bottom-of-the-hill track turn and keep in climbing shape on your favorite paved road.
For the non-conformists out there, ski biking, monoskiing and other skate inspired sports offer non-traditional alternatives. And they prove that the evolution of winter sports is far from over. You too could invent something as cool and permanent as snowboarding—or maybe even the next flash craze in winter activity.
You might also like...