A Guide to Taking Photographs on Your Ski Break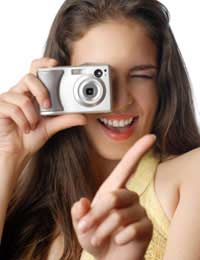 Most skiers have happy memories of past ski breaks, particularly those trips taken with family friends. Taking photographs on your ski break is a great way to ensure that those special moments and breathtaking landscapes stay with you forever. Snow can prove a challenge to photographers, however. The cooler light and dazzling reflections snowy landscapes bring can prove problematic, often resulting in a final image that is too bright. Holidaying skiers keen to document their break using a digital camera should take care to stay safe, be mindful of cold conditions and make the most of their camera's features.
Stay Safe
When taking photographs, be sure to adhere to the safety rules and regulations that govern regular skiers. Never go off-track and don't be tempted to walk into unmarked open areas. Keep your wits about you at all times and listen closely for approaching skiers. On sunny days, be sure to wear both sunscreen and sunglasses.
Combat the Cold
Many digital cameras run on batteries. Unfortunately, batteries do not function well at low temperatures. With this in mind, always carry some spares. To maintain the functionality of your batteries as far as possible, keep your camera close to your body when it is not in use, to prevent the batteries from becoming too cold. Keep your spare batteries close to your body too, wrapped in a small, soft cloth. Be sure to wear a warm coat or ski suit, as well as gloves and a scarf, so as not to spoil your picture by shivering.At the end of the day, allow your camera to warm up gently before reviewing your photographs or transferring them to a computer.
Useful Techniques
When taking photographs in snowy settings, automatic modes do not usually come up to scratch. These automatic modes set the shutter speed, white balance and aperture for a given shot. Snowy conditions can cause cameras to misjudge the 'white balance'; a feature which equalises colours based on light conditions. This is why plenty of photographs taken in snowy areas come out with an overly bluish tinge. The trick is to manually adjust the white balance on your camera. Trial and error is key here. Adjust the white balance several times whilst photographing the same scene. Pick the photograph with the best exposure and the most accurate white hue and opt for the corresponding white balance. Remember to adjust it throughout the day if light levels change.
If you are taking photographs of your friends or loved ones in the snow, shadows can prove a problem. Experiment with taking photographs using the flash in order to brighten your subject.
Before setting out on your photographic mission, consult your camera's manual to be sure that you are making the most of its features and settings.
Staying safe, working with cold temperatures and making the most of your camera's functions are all key steps to take when it comes to taking a good photograph in the snow. Remember, though, that the snow is not the whole story. Everyday rules still apply. Framing your subjects carefully, making use of unusual angles and looking for original photo opportunities are important too. Cover all your bases, however, and you will soon have a mantelpiece full of expertly captured moments.
You might also like...