Private Resorts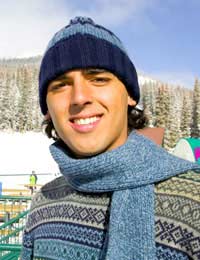 High end resorts offer ski valets concierge services, four star dining and even private hotel residences, but when affluent customers set foot on the slopes, they must mingle with the common folk and wait in lift lines like the rest of us. That is unless they are members of a private ski club.
Private Clubs
Private mountain clubs own and run their own ski areas, offering member-only access to lifts and powder run as well as luxury facilities. Tucked behind Big Sky Resort in Montana, members of the Yellowstone Club rub elbows with world-renowned ski-film producer and honorary Director of Skiing, Warren Miller. The club grants member-only access to Pioneer Mountain and a portion of Andesite Mountain, via eight lifts, claiming over 2,200 skiable acres and dropping nearly 2,700 vertical feet with an average of 400 inches of snow annually. When club members tire of skiing dog-sledding, year-round fly fishing, guided backcountry and groomed trail cross-country skiing and snowshoeing, as well as snowcoach tours through Yellowstone National Park entertain.
Canada's family aimed private resorts offer dances and parties, ski schools, race programs and line-less lifts. Centered on the Niagara Escarpment, the Alpine, Craigleith, Osler Bluff and Devil's Glen ski clubs provide members with public ski resort services and private mountain crowds at separate ski areas. Slightly more open than the Yellowstone Club, Craigsleith allows members to sponsor guests at typical lift ticket prices. Likewise Osler Bluff Ski Club members can use the resort to schmoose business associates, though the ski area only operates Wednesday through Sunday and real estate is limited to nearby townships.
Shared Access
Shared access clubs like Telluride, Colorado's The Ridge, Tallus in Mammoth Lakes, California and Spanish Peaks in Montana focus on scenic lodging. Members fully or partially own secluded cottages or condos in gated communities near fly fishing, golf, hiking, snowshoeing and cross-country skiing as well as public ski resorts. Club houses facilitate social events and mingling as well as private dinning and four-star service.
Spanish Peaks grants skiers and snowboarders club-run lifts that deliver skiers and snowboarders to Big Sky Resort and Moonlight Basin, while The Ridge's patrons enjoy ski-in ski-out access to Telluride Ski Resort. Weekday lift lines are short and trails are abundant, but both are shared with common folk. HoliMont Ski Area in Ellicottville, New York is more like a local's hill than elite club with 50 ski trails, served by eight lifts open to the public Monday through Friday. Much like private golf clubs, members are granted special access to luxury club facilities.
Membership
The difference between a exclusive mountain clubs and the shared mountain/real estate club experience is in the millions. The Yellowstone Club requires an invitation by an existing member, a quarter million dollar membership fee, and a $16,000 annual fee. Real estate investment is optional and based on availability, however, members looking to own a piece of paradise can expect to spend around $1.25 million for an apartment, while chalets start at $4 million. Osler Bluff Ski Club members become shareholders with a vote in major Club decisions and ownership in a portion of the assets of the non-profit Club.
On the other side of club membership, Spanish Peaks does not require an invitation and sells memberships for between $500,000 and $1.3 million, plus annual fees. Tallus charges $795,000 for each member, along with quarterly and annual fees for fractional ownership. Real estate investors may find themselves at home at The Ridge, but like most clubs up-keep fees apply. Membership varies from club to club as do the benefits.
Like golf resorts, private ski resorts dot the US, Canada and New Zealand. Luxury facilities and services compliment uncrowded slopes. The degree of exclusivity depends on the club, ranging from exclusive resorts to real estate clubs with access to shared public mountains to private non-resident mountains with limited public access. Whatever your investment plans, private clubs can give you a truly untouched mountain experience.
You might also like...