The Worlds Best Skiing and Snowboarding Resorts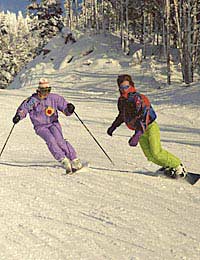 There are hundreds of different ski resorts across the world which you can snowboard in. America Canada, France, Chile, New Zealand, Italy, Spain and Japan all offer places to ride in? So how do you decide which one to visit when there's such a huge choice?
Well, first you must decide what you are looking for in a ski trip. Are you a beginner who just wants to learn the basics? Are you a freestyle expert who wants a perfectly shaped park with massive kickers and a well groomed half pipe? Do you want somewhere with a vibrant nightlife, where there's plenty of action after dark in the bars and clubs across town. Perhaps you are a family, and you'd prefer somewhere smaller and quieter for your stay.
Everybody has a different idea of what a good ski resort should have to offer, and with this in mind, here is a guide to the best places for each type of trip:
Best for Beginners
Beginner snowboarders need good instruction and some easy terrain to learn on. Almost all resorts offer beginner slopes and ski school, but here are some to get you started:
Morzine, France Plenty of easy slopes to learn on and a huge area to explore as you improve.
Soldeu, Andorra Quiet and friendly with great on-mountain facilities.
Grindelwald, Switzerland, a picture perfect town with plenty of long open runs, perfect for beginners and intermediates.
Best for Bargain Hunters
Money a bit tight? Snowboarding need not break the bank with these places:
Livigno, Italy It's not as cheap as it used to be, but this duty free resort still offers great value for money.
Bansko, Bulgaria It's become very popular with the Brits due to its cheap and cheerful nature.
Jasna, Slovakia this is an up and coming ski resort that is already popular with the Russians and Ukrainians for it's low costs and high value.
Best for Powder Hounds
Want fresh powder? Try these resorts:
Niseko, Japan situated on the island of Hokkaido this is a powder paradise with huge amounts of snow and perfectly spaced birch trees.
Kicking Horse, Canada Amazing freeriding without the crowds.
Jackson hole, USA Steep and deep with plenty of backcountry access.
Best for Families
Small and quiet resorts suit families best, so try these places:
Leysin, Switzerland A beautiful alpine village with gentle slopes for the kids, but plenty of more challenging terrain for the adults.
Baqueira-Beret, Spain Situated in the Pyrenness, this resort is not well known to the Brits, but makes an excellent family area due to its mellow slopes and sunny weather.
Les Arcs, France this is a large resort but offers some quiet terrain in areas like Vallandry, and excellent child care facillities.
Best for Freestylers
For big air, head to these resorts:
Mammoth, California USA Said to be the spiritual home of freestyle snowboarding.
Snowpark, New Zealand The best terrain park in the southern hemisphere.
Hemsedal, Norway A small yet very beautiful hill with a huge range of kickers and plenty of rails.
Best for Boozing
If you prefer more booze than boarding, then head to ski resorts which are bigger and have a large seasonaire crowd.
Val D'isere, France Very popular with the Brits, this is après ski at its best (or worst, depending on how you view dancing in ski boots).
Kitzbühel, Austria Plenty of bars and clubs to get friendly with the locals and dance the night away to Euro pop.
Pas De La Casa, Andorra (Also known as Ibiza on ice!) Is a favourite with the party crowd.
There are also a number of good guide books to help you make your choice of ski resort including Snowboarding the World and The World snowboard Guide.
You might also like...