Ski Resorts in South America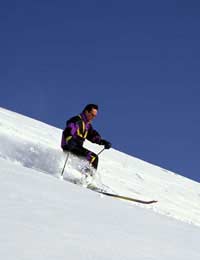 Some of the best southern hemisphere skiing extends south of the Rockies in the world's longest mountain range the Andes. Over 7000km long, 500km wide and averaging 4000m high the range runs through six countries and hosts some 37 ski areas, and plenty of unmarked terrain for endless winter travelers.
Adventure Skiing
From June to November, skiers and snowboarders of all abilities and invincibility's attack the Andes. The more ambitious extreme mountaineers travel to Bolivia, Venezuela, Peru, Ecuador or Colombia. In Peru, which hosts no ski resorts, numerous people ski on Pastoruri, in the southern Cordillera Blanca. Getting to the snow is a journey in and of itself; however, the high mountain bowls appeal to hearty mountaineers and trekkers.
Ecuador's four highest peaks, Chimborazo, Cotopaxi, Cayambe and Antisana tempt adventurers with huts at 4500-5000m, except Antisana, and long descents. Then again, considerable avalanche danger and navigating around large crevasses make these peaks too dangerous for the average skier. The volcanoes of Colombia's Los Nevados range are difficult and dangerous to access, but the southwest side of Nevado Del Ruiz grants a slight reprieve, with access up to 4900m by a road.
Merida, Venezuela's one established ski area, offers one lift and one cable car, on Mirror Peak toping out at 4766 meters, but abounds with bowls and hikeable skiing in the Sierra Nevada National Park. Bolivia's skiing centers on Chacaltaya, the world's highest ski-resort at 5200m, near La Paz. Both Venezuela and Bolivia's resorts offer excellent terrain, but lack the fineries of resorts in North America, and the tropical conditions and retreating glacier negatively affect snow conditions.
Chile
The heart of South American skiing belongs to Argentina and Chile. The best snow falls in July and August covering the west coast mountain range. The Central Zone resorts, including the Three Valleys of Farellones-El Colorado, Valle Nevado and La Parva as well as Portillo, probably Chile's most well known resorts, conveniently sit near Santiago.
All boast snowmaking equipment and offer all the amenities of European ski villages and American resorts from maintained pistès, terrain parks and half pipes, ski schools and rental equipment to helicopter skiing, discotheques and ski-in ski-out lodging. Valle Nevado claims 2675 ft vertical drop and nearly 9,300 hectares of skiable terrain, the most skiable acreage in the southern hemisphere, connected by trails to Farellones-El Colorado and La Parva. One lift ticket allows access to over fifty lifts at Three Valleys.
Smaller and less accessible ski resorts like Chapa Verde, Termas de Chillan, La Burbuja and Antillanca offer fewer services and lifts, and dirt road access, but satisfy intermediate skiers with off-piste skiing. In addition, Lagunillas, Antuco, Lonquimay, Llaima, El Fraile and Cerro Mirador inexpensively offer great beginner terrain and friendly staff, but minimal lodging and après ski. Further south, in latitude as well as altitude, Villarrica- Pucón offers amazing views of Osorno, the famous volcano, and Termas de Chillan claims the longest run in South America, at 13kms of easy terrain, as well as popular alternative activities such as Nordic skiing, backcountry skiing, snowmobiling and sledding. Oft wet conditions and varying degrees of tourist amenities make the less known ski areas appealing more for their views and exposure to local culture than hard-core skiing.
Argentina
On the east slope of the Andes, Argentina offers three main ski resorts and numerous smaller areas. With new, expanding and reorganizing resorts, skiing in Argentina is still developing. Las Leñas, Mendoza, built in 1983, proves that the ski industry in South America isn't stagnant. With 12 lifts, 3,897 feet, helicopter accessed terrain, a park and pipe, and snowmaking, Las Leñas provides all the services and amenities tourists and locals appreciate. While the title of biggest South American resort seems to be up for debate locally, Cerro Catedral, in Patagonia, is not lacking in terrain or services with more than 2,000 hectares of skiable terrain and a fully developed resort, only 12 miles from Bariloche. Smaller Cerro Chapelco, San Martin appeals to family skiers with well-marked uncrowded trails, noticeable ski patrol and a well-equipped ski school.
Ushuaia in Tierra del Fuego claims the title of world's most southerly "proper" ski resort. Notwithstanding the three independently run Antarctic lifts, Cerro Castor's three new quad chairs service 400 hectares with plans to expand to 1200 hectares. Unfortunately like all South American ski areas, Argentina's resorts can be spoiled by unreliable snow and unorganized management.
South American skiing is as much about cultural exploration as adventuring. From unprotected mountaineer to resort style skiing, South America has it all, but unlike the established industries in Europe and North America, South American resorts often lack the infrastructure money brings.
You might also like...