Survival Gear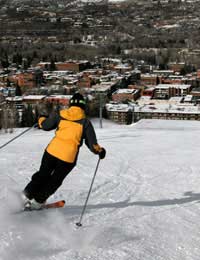 Anyone familiar with Alpine conditions and the indigenous terrain will tell you that the first and most important lesson that you learn in this type of environment is to respect Mother Nature. Fail to do this by venturing out without the correct equipment and you are at the very least likely to feel the sharp lash of her icy tongue.
Begin every equipment check with your clothing; that means sturdy boots with a well defined sole for grip and good water-proof properties, together with a waterproof lightweight jacket manufactured from a breathable material. Preferably, the jacket should sport a bright colour scheme for maximum visibility. It may not win you any admirers on the urban catwalk that is the city's streets, but deteriorating weather conditions are not compatible with followers of fashion, either. Ensure your trousers are waterproof, too, and incorporate a number of pockets for storing essential items such as a compass or energy bars.
Wicking Effect
Think layers, too, both of the thermal variety to keep in the heat as well as a base layer manufactured from a material that has a wicking effect ie transporting perspiration away from the skin to prevent heat loss and possible chafing.
Use your head when choosing a hat. Preferably it should provide protection for both the ears (cold conditions) and the back of the neck (sun). Sunglasses with removable side shields or goggles are another essential item for protecting the eyes from the glare of the sun reflecting off the snow, or the debilitating effects of powder being blown up and into the face when the wind picks up.
As far as your pack is concerned, ensure it contains a first-aid kit comprising dressings, bandages, antiseptic wipes, scissors, paracetamol and burn gel. A water bottle is another essential, along with a lightweight winter sleeping bag. Other survival item you should be ticking the boxes for are a good utility instrument such as a Swiss Army knife, a glow stick, torch, a mountain distress whistle, an emergency silver blanket and a good-quality water-proof watch.
Who's Bringing the Map?
By the way, who's bringing the local-area map? You do have a map down on the list, don't you? If not, get one, together with a waterproof pouch or map case that will prevent damage. Preferably every individual should possess one and be trained in using it in case they find themselves cut off from the rest of the group. In conjunction with the aforementioned compass, it can prove a real lifesaver.
The final item that should appear in your list is commonsense. Don't get too ambitious or be sucked into exploring paths or passes that may leave yourself or your group struggling to ascertain location. Survival gear is only designed for fall-back positions, not as replacement for being sensible and conservative in your ambitions.
Remember, too, to tell someone where you are based or at your intended destination exactly what your planned route is and your estimated time of arrival, in order that they can raise the alarm should you or your group be overdue.
Ensuring you are well kitted out for whatever the elements throw at you is simply affording Mother Nature the respect she deserves and will mean you are likely to emerge safe rather than sorry even when the going gets tough.
You might also like...