Trapped in Your Car During Heavy Snow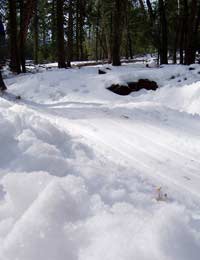 Bad weather during the winter months (especially snow) can severely compromise your safety while driving your car. In extreme circumstances, you might even find yourself trapped in your car during heavy snow in the winter. This is not particularly uncommon if you are going to be driving in areas with heavy snow, such as in the mountains. This article offers advice on what to do if you find yourself in this situation.
Emergency Winter Survival Kits
It is a good idea to keep an emergency winter survival kit in your car in case you become trapped in your car in the winter. This can include items such as:
First aid essentials such as plasters, antiseptic cream, bandages and aspirin
Foods that will keep for a significant length of time and can easily be opened. Avoid canned foods though, as they can freeze. In terms of drink, avoid bottled water for the same reason.
Flashlight and spare batteries
Warm blankets
Sleeping bag(s)
Gloves, hats and other clothes that will keep your warm
Hand shovel (to dig some clear space for your exhaust pipe, especially if you intend to start and run the engine
During the winter, keep some anti-freeze in your car for snow-related emergencies.
Car Checklist
Before you leave the house, there are certain things to check, especially if you know or suspect that it will snow while you are out:
Check your tyre pressures before you leave. If your tyres are the wrong pressure or temperature, it can make you more prone to slipping or skidding on roads containing ice or snow. This will obviously compromise both your safety and that of your passengers.
Make sure that all of the windows (including front and back windows) are properly de-iced.
Take a mobile phone with you in case you need to call for help, but be aware that you may struggle to get a signal in remote areas.
Using Your Car to Keep Warm
If you are trapped in your car during heavy snow, be careful about keeping your car's engine running to warm up. If you are stuck in deep snow, you need to make sure that your car's exhaust pipe is not blocked. If it is, there is a strong chance that carbon monoxide fumes will not be able to escape, which will cause it to go back into your car. Carbon monoxide fumes have no smell or taste and can't be seen, but they are highly toxic. You may also want to open a window slightly so that the car is at least partially ventilated. For safety purposes, if your exhaust pipe is not clear of snow, do not attempt to run the engine. Even if it safe to run the engine, you should only do so for a maximum of ten minutes per hour. Run the heater while the engine is running, and switch on the lights so that your car is visible.
Stay in the Car
Stay in or close to the car at all times, especially if it is still snowing as you can easily get lost or separated from your vehicle. To let people know that you require help, you can hang a bright piece of fabric on your car's ariel.
Other Things to do
Try not to spend too long in any one position. It is best to keep your circulation moving by doing small exercises. This also has the added benefit of helping you to stay warm.
You might also like...