Movie Review of 'Aspen Extreme'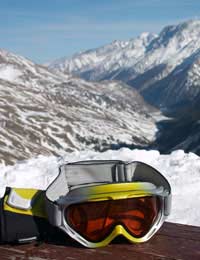 It is every ski bum's fantasy to drive into town and be the king of the hill; adored by the beautiful people picked for the prime jobs, and live in a gorgeous cabin with a mountain view and a hot tub. Aspen Extreme portrays the more realistic side of ski bumming with a Hollywood flavor. In the revered town of Aspen where apartments sell for millions, the life of Dexter and TJ, living in a van, teaching kids and being a joke to locals is not far-fetched or unwanted. At some point in their tenures, all ski bums invoke Dexter and TJ.
Ski-Bums
There seem to be two options for new skiers in Aspen, according to this movie, to make themselves legends. Clumsy hill-billy Dexter Rutecki, played by Peter Berg, embodies the working class transient ski instructor. Lost in a world of fur and snow he identifies with the underbelly of Aspen's glitzy society and goes the drug route and taking all the trouble that goes with it.
Like all great wingmen, Dexter cherishes the friendship of the lost star, even saving TJ in a horribly executed crevasse disaster, but in the end is still the sacrifice. Pretty boy TJ Burke, Paul Gross, longs to be something he isn't and gets lost in his own way, among the money and sex of Aspen's A-listers, as Dexter put it, trying to "screw [his] way out of the working class." However, it is getting past the drug and gigolo lifestyles that create the legends. Dexter's exoneration comes in an accidental death after the cute blonde local, Teri Polo, kicks his butt into getting clean and figuring out who he really is.
Decisions and Seduction
TJ's salvation takes the sacrifice of Dexter, and the forgiveness of our "Lady on the Radio." Todd Pound's entrance as the adoring new skier, played by William McNamara, and Dexter's winter jogging scene simply and nicely depict the transition from new guys in town to that ever sought-after local identity. Wise ski school supervisor, Karl Stall played by Trevor Eve said it best, "Skiing's the easy part."Writer and director, Patrick Burke Hasburgh, incorporates the subtleties of the classic blockbusters Cocktail and Top Gun. The duo of popular pretty-boy with something to prove and goofy side-kick, maturation through love versus money dilemmas and personal tragedy are beautifully revealed in the gorgeous Colorado mountain setting. In a timeless scenario, money influences all moral decisions and seduction is the chosen game.
Though the movie accurately portrays ski school and Aspen people—rich, local and tourist, Hasburgh did take some directorial license. The crevasse accident, while necessary as a plot device, was entirely unrealistic and laughable. A well-executed cliff fall would have been better. However, the believable avalanche that claimed Dexter redeems Hasburgh's depiction of man in nature.
Beauty and Soul of Nature
Great views, enviable conditions and great Colorado terrain show why Dexter, TJ and so many others choose Aspen. But, it is the small town nuances: ski racks on bikes, citizen of the week, baby in chest harness at the mountain and radio lost and found that give the setting and story depth. TJ's descent of the waterfall isn't bad either. Extreme skiing, in bound groomers and powder demonstrate why we love this sport. And of course, in the requisite ski movie competition the good guys win.
Aspen Extreme combines the beauty and soul touching nature of skiing and mountain living with the dilemmas of classic dramas. Well acted and brilliantly told, the story of two skiers looking for themselves takes its place among our favorite 90's movies, and reminds us of the significance of Powder Eights. Maybe it's time for a revival, or in Hollywood, a sequel.
You might also like...