Movie Review of 'Snowboard Academy'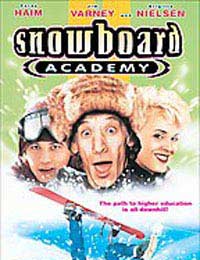 The ski movie formula crosses dividing lines: competition for the mountain plus seduction divided by sabotage equals funny ski/snowboard movie even in a PG format.
Synopsis
Softhearted Santa Clara ski area owner Mr. Barry (Joe Flaherty), faces financial doom and pending insurance revocation, and then he hires Rudy James (Jim Varney). To assuage his money woes, Barry offers his youngest son an opportunity to prove snowboarding is a real revenue generating sport, against the complaints of Barry's eldest son, Paul Barry. Meanwhile unfaithful gold-digging Mimi Barry refuses to sign divorce papers until Mr. Barry sells the resort. The accident-prone James (Ernest Goes to Camp) painfully plays entertainment supervisor and safety coordinator who can't ski, but is based at the top of the mountain, holding the insurance outcome in his flaming hands. All the story lines successfully pull together for a happily ever after ending, with a twinge of prophesy.
Can't We All Be Friends?
Marking the transition of snowboarding as an established sport, Snowboard Academy lampoons the rivalry between old and new, evil and good, bourgeois and bum: skier versus snowboarder. Ski movie traditions of crazy characters, indoor snowball fights, seduction and cheating prevail in this entertaining ride of a snowboard comedy. Jim Varney adds over-the-top klutzy slapstick antics that force a laugh now and again, to the almost serious validation of snowboarding, while Brigitte Nielsen's, vixen Mimi moves the movie along and provides a scapegoat so that both skiing and snowboarding come out on top. The meeting of the minds, and boards, legitimizes snowboarding to 90's audiences, and those of us who watch the movie on DVD (and haven't been on a mountain or seen the X-games), making it cute from an historical perspective.
Snowboard Academy follows the ski movie pattern with decent success. The B star cast delivers believable and caricature performances, with realistic context skiing and snowboarding. The resort, skiers and snowboarders actually look and, with the exception of slapstick comedy moments, behave believably enough, like a real resort. Cory Haim embodies the 90's snowboarder with an anti-old-way mentality and terrorizing skiers, while contradicting the lazy snowboarder bum reputation by manually building a half-pipe and creatively promoting and developing a snowboard school. Haim's onscreen brother, Paul Barry, played by Paul Hopkins, and ski instructor Katy, Erin Simms, portray skiers as cool, eventually open-minded, skilled athletes, and the supporting cast deliver crack-up stoned, bro-bra speaking snowboarder stereotype performances.
The weird, European like, stooge that attempts sabotage reveals some rivalries never die. Varney's staged accidents are a bit painful to watch, and feel forced at times, but that is the nature of his comedy. Puns bedazzle, poles fly, jokes intentionally flop and face plants abound; everything a good snowboard movie needs in addition to the requisite accidental run down the unskiable hill by a beginner.
Finally snowboarding has become mainstream and we skiers can accept it as a real sport! Since they've proved they can produce a decent story line, funny cast of characters, requisite antics and rivalry race, it is time snowboarders step back behind the camera and compete with the adult, PG 13, ski movies on everyone's Netflix queue. Didn't we establish that some rivalries will never die.
You might also like...