Movie Review of 'Ski School 1 and 2'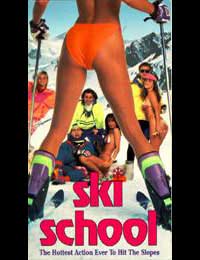 "Skiing is partying partying is skiing," a classic quote from Ski School (1991) that embodies a genre of great ski comedies. In a Fast Times at Ridgemont High-esque style the ski (instructor) bums, and their students, led by Dave Marshak (Dean Cameron) party, prank and ski their way to victory over the up-tight egotistical ski instructors that plan to steal the mountain and kick off everyone fun. Similarly, in the sequel Marshak and his crew if miscreants annoy the uber-instructor, Steve Longwood, revealing his evil plan to take over the mountain and kick off the bums, oh and Marshak wins the love of Longwood's fiancé. And journalists think Bode Miller parties a lot!
Despite the funny antics, Ski School is more of a practice run for Aspen Extreme (1993), than a stand-alone movie, requiring more than suspension of disbelief. A ski school based on sections at a real big name resort, Whistler, with a competition being the deciding factor for expulsion from the mountain with no consequences for blatant cheating just doesn't ring true. Weak editing makes it worse, like when John E. Roland is racing the final race, Giant Slalom gates in one shot, and slalom gates in another, or in a bedroom scene, when Victoria drops her bra on the floor twice. Though the movie is hilarious, and makes viewers envious of the freestyle lives of ski bums, it is not as good as the sequel. It says something that the sequel is available on DVD and the original is not.
The more believable plot line and more outrageous characters, such as Bil Dwyer's Toddorbert Guzinsky, make Ski School 2 riotously funny without making the viewer work. Even the naked painter is believable because her role is integral to the main plot of the movie rather than a periphery like the rich seductress in 1.
Both films stick to basic good versus evil themes, though the good guys wear teal and one-piece ski suits. And the rules of love and sex are maintained: love interests are blonde, seductresses are brunette and there is always one guy who gets all the women, even if he is taking a break from sex to concentrate on his skiing (the real suspension of disbelief). Aside from Dean Cameron's energetic portrayal of Dave Marshak, the acting in both movies ranks up there with many eighty's and early nineties performances, bad. However the writers make up for bad dramatic lines and terrible delivery with fabulous comedic pranks and quotable good-guy motivations, as Dave Marshak said, "it's not how far you go, it's how go you far," and "Fitz, you get beer. Ed, you get... beer. Johnny, you get laid."
The quality skiing is the redeeming factor of Ski School with wild acrobatics and close-to-real race scenes it is better than 2. But to its credit, the skiing in Ski School 2 follows the plot well and the bumbling luck of student Tomcat Collins (played by William Sasso) in his cartoon like trip down the black diamond almost makes up for the lack of cutting edge aerial tricks.
Over all these movies are a great way to get psyched for the ski season, and a great laugh. Definitely a must have among any good ski movie collection. "We came, we partied, we conquered. The mountain is ours. Let's dance."—Dave Marshak.
You might also like...