Movie Review of 'Hot Dog'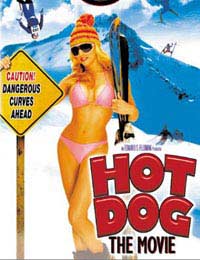 Skiing is a male dominated industry thus ski movies are mostly aimed at men and it is the naked women and sometimes the great skiing scenes that get all the credit. Not just a movie for men, Hot Dog's hot leading characters with their fresh-mountain-air good looks, and hot moves appeal to female skiers as well. It is a classic movie for everyone and the guide, to which all later ski movies refer.
Synopsis
Hot Dog takes surfing movies of yore, to the mountains, the pinnacle of the skin and snow genre. Favored good ol' boy Harkin Banks, Patrick Houser, shows his stuff on the mountain and to the ladies at the FIS Freestyle Challenge, filmed on location at Squaw Valley, California. Competing against three time world champion Rudolph 'Rudi' Garmisch, played by John Patrick Reger, in a fixed competition of bumps, aerials, ballet, and speed skiing, it becomes a classic tale of right versus wrong embodied in the timeless rivalry of Europeans versus Americans. And of course there is the conflict of the love of the sweet-girl-next-door versus rich hot chic boy toy. 80's ski culture parting ensues and in the end, like all disputes, the conflict is settled with a Chinese downhill, a free-for-all no-rules fight down the mountain, where the best man wins. What more does a great ski movie need?
The Making of a Classic
Unlike subsequent skin and snow genre movies, Hot Dog focuses simply on the love and ski conflicts at hand rather than digressing with crazy creative pranks; its honesty makes it feel less like fiction and more like a great ski party we missed. Broomball, wet t-shirt contests, seduction and a little get-even hijinx build the tension between the competing groups effectively, and the cast of crazy characters that we all know: the guy who's always listening to his music, the dude with the worst pick up lines, and that one guy who skis like a mad-man, fill out the story.
Our hero's grace, invincibility and triple flip with a twist demonstrate that freestyle skiers of the 80's, can keep up with today's extreme athletes, adding to Hot Dog's timelessness. Suspension of disbelief comes naturally as the movie feels like an extension of every skier's experiences, rate R or not.
Is it age, or quality, that makes a movie a classic? Hot Dog's timelessness, despite everything 80's, comes from time honored Hollywood moral strife and realistic storyline backed by believable setting and characters. The story telling is so good, every subsequent ski movie of note has a hot tub scene, older rich lady seducing the young new guy, and one great last mountain challenge, (Ski School and Ski School 2). Even Aspen Extreme took a queue from Hot Dog, with the blue collar skier goes west to test his stuff story line. Hot Dog set the standard. Every generation adds a movie to the classic list, for the baby boomers it was Downhill Racer with Robert Redford, now Hot Dog has taken on classic cult status.
You might also like...