Movie Review of 'Winter Break'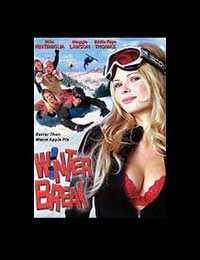 "One of the best things about living in a ski town is getting out on the mountain at the crack of dawn before the lifts open. There's nothing like fresh tracks and untouched powder. It's as if the snow has the ability to glaze over any obstacles or dangers that lay in the way, allowing you to glide right over them. Leaving you free to choose whichever path your heart desires. If only life could be so simple," —Narrator Matt Raymand.
Not Necessarily and Epic?
Some movies are good because they hit us in a soft spot; they sing to our experiences and make us feel nostalgic for better times or at least what we've already lived through. They are not necessarily epic, but they tell a good story and give us hope. Winter Break, mildly miss-marketed, is one such film. Don't be fooled by the bra on the box, or sex innuendos in the trailer, this movie, rated R for sexual content, is not part of skin and snow movie genre. More of a love and starting life movie, Winter Break features smart cute ski bum girls, Rachel Wilson and Maggie Lawson, who keep their clothes on in public, and human guys (as opposed to caricatures).
Matt Raymand, played by Milo Ventimiglia, just graduated college and has been kidnapped by his friends and taken to Aspen, CO in an effort to save him from a dead end job in Buffalo, NY. With an over-achiever work ethic and high ideals of the perfect high paying job, the perfect outdoor women in a red truck and dog in the passenger seat and a quarter million dollars of student debt, Matt learns what it means to follow his heart.
A New Kind of Ski Movie
More romantic than comedy, the story follows Matt through his tribulations of trying to get with Michelle, Maggie Lawson. Compared to other ski movies, the emotion and acting get an A+. No cheesy one-liners or false moments break up the story, and no one cheats on the other with a rich hot babe. Simplistic yet detailed, it is a story we can all appreciate, and the skiing backdrop makes it tolerable for those who don't love chic flicks. The back-up cast consists of a wise older married couple, rare in the ski movie genre, that remind us there is life beyond skiing, or not. A pot smoking snowboarder, a he-whore and the guy who can't get laid complete the supporting cast.
Though the guys pretty much focus on getting laid or try to get laid, they do not plot, prank or race like their other ski movie counterparts. Even Eddie Kaye Thomas, though he does not break away from the sex-driven virginal roll, gets an emotional connection and a girlfriend. The secondary story line delicately depicts how two people get to know each other, and become attracted to the real person, rather than the act.
The Aspen Ski Resort backdrop accurately depicts ski bum life, with multiple jobs, messy smelly houses, and of course parties with local bands and even a dress-up fundraiser (where everyone wears sneakers). Even the kids' ski school scenes are genuine. True to real life, the group hikes for backcountry lines and perspective. There is nothing like clean air, aerobic exercise and quiet to let us hear our heart's desire, in real life or the movies. This early 20's, beginning of life love story raises the bar as an intelligent ski movie, rather than a crass American Pie style comedy.
True to heart and ski bumming, Winter Break reminds us that life will turn out, but sometimes you have to help it in order to get what you want.
You might also like...