Movie Review of 'Extreme Days'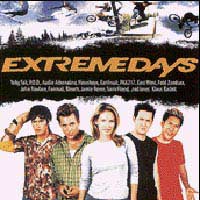 In a 007-like chase scene two snowboarders ride for their lives action music pushing the tempo. Their pursuers give chase guns ablaze, cliffing-out one of the boarders. In perfect timing, his friend rides up behind and shoots. The pursuer goes down. "Dude that was the best paint ball war we've ever had!" cheers Will Davidson (A.J. Buckley).
Conflicting Stories
Extreme Days, a Providence Productions 2001 film, combines sick extreme surfing, motocross, skate boarding and snowboarding footage with a thin plot and deep message, sort of after school special meets extreme adventure TV. Four friends, brothers Will and Bryan with friends Corey and Matt travel from Mexico to Seattle, WA on a journey to say good-bye to Corey's adventurous grandfather who has passed, in hopes of inheriting his fortune. In traditional ski-comedy fashion, there is the pretty boy: Bryan Davidson (Ryan Browning), a blonde love interest: Jessie Jacobs (Cassidy Rae) and the crazy fun character: Matt McKeague (Derek Hamilton). The antics of the group entertain without promoting drinking or typical ski bum partying.
Seen through their video camera, action footage sequences, and movie film, the group in their early twenties, face life's curve balls and take adventures as they come. More like real life than most winter mountain comedies or dramas, Extreme Days, has a sense of human frailty that doesn't exactly line up with the extreme footage. The action almost flows with the plot when the actual group is seen snowboarding on California's Sierras and attempting to ride a table, crashing in true beginner fashion. The rest of the knarley wipeouts, professional snowboarders and skaters crushing themselves on rails and taking face plants off tables, don't flow with story line. The film feels disjointed, choppy and a bit schizophrenic.
Though most drama and emotion in ski comedies is bad, Extreme Days comes up extra cheesy. Phone calls in the car and sappy pick up lines: like Bryan's "Maybe I'm your miracle," response to Jessie's "I need $2,000, an engine or a miracle," don't work because the movie take its self too seriously. Nice moments like when Bryan gives groceries to a homeless mother and children remind you that this is not just a fun comedy about four guys on the trip they've planned forever. By the middle of the movie, you get it; this film has a higher message. Pared with backcountry Sierra powder runs, skateboarding in Portland and the ultimate comedic fight, conversations about Will and Bryan's dead sister and Jessie's broken family feel a bit reaching.
Redemption
Redemption for this film comes in the form of the best mock-fight scene ever, a new way to play spoons and the shopping cart race. The soundtrack has great pushing rhythms like any good snowboard or ski film, and is safe for kids whose parents worry about lyrics.
Pre-teen viewers might enjoy this movie for the awesome fight scene, clean young boy antics and extreme surfing, skating, motocross and snowboarding scenes. Older viewers would have to get over the multiple personalities of the wholesome message and extreme footage. At least, the good guys win, getting to ride in Alaska, in a bit of last minute Hollywood fortune.
You might also like...